Located in the middle of Maine's Mid Coast and on the Penobscot Bay, Rockland is a vibrant city renowned for its lobster fishing and working waterfront. While its expansive harbor attracts visitors from all around, many people visit Rockland for its creative community, visual arts, and robust history. If you're a pet owner who wants to visit Rockland, there's no need to leave your furry friend behind. In fact, there are many pet-friendly things to do in Rockland, Maine.
Best Pet-Friendly Things to Do in Rockland, Maine
Whether you're in Rockland for one of the local festivals, you've come to enjoy the coast, or are just looking to relax and recharge, there are plenty of pet-friendly activities and establishments that are ready to welcome you!
Best Recreational Areas to Visit With Your Pet
When you want to let your pooch run around, dog parks are great destinations. Keep Maine law in mind while you're there, though. You don't have to keep your dog on a leash at these places, but you're still responsible for supervising it. The dog parks usually have waste bags on hand, but it doesn't hurt to bring your own just in case. At the other recreational areas, take waste bags with you to pick up after your pet.
Get our complete vacation guide to Mid-Coast Maine. Many of the best places throughout Camden, Rockland, and Rockport.
Jean H. Kislak Community Dog Park
Created by PAWS Animal Adoption Center in neighboring Rockport, this pet-friendly dog park has a fence and separate areas for small and large dogs to run around. There are even a few benches for dog owners to rest on. Since the park doesn't always have water, take some with you to keep your pet hydrated.
Rockland Harbor Park
On the waterfront, Rockland Harbor Park is a venue for many annual summer events. It's part of the Rockland Harbor Trail. This 5-mile path lines the downtown area and waterfront, extending from Snow Marine Park to Rockland Breakwater. Your pet is sure to love the walk while you enjoy the scenery.
Johnson Memorial Park
Along Chickawaukie Lake, Johnson Memorial Park has a freshwater beach and public boat launch. You and your pet can swim in the lake and then take a break in the picnic area, which features barbecue grills. There's easy access to the park, and it has free parking and restrooms.
Camden Hills State Park
Open as long as the weather permits, Camden Hills State Park is a scenic spot on Mount Battie. You'll be able to see Penobscot Bay from the park on a clear day, and Mount Megunticook is a moderate hike. There are many activities that you can do with your pet here, including exploring hiking trails and walking paths.
Best Pet-Friendly Things to Do in Rockland, Maine
Aside from parks and beaches, boating is a dog-friendly activity in Rockland. As long as your pet behaves well and stays on a leash, several day-trip companies and short sailing cruises allow dogs aboard. Even state ferries have pet-friendly cabins.
Captain Jack Lobster Boat Adventure
Established by Captain Steve Hale because of his love for being on the ocean, Captain Jack Lobster Boat Adventure lets you experience the life of a lobsterman. The company has a 30-foot lobster boat, and you're welcome to take your pet along. All dogs must be leashed throughout the adventure, during which you may see harbor porpoises, seals, sunfish, and whales. You also get the chance to take pictures of Rockland Breakwater Lighthouse and the Owls Head Light from the water.
Rockland Breakwater Lighthouse
Completed in 1902, the Rockland Breakwater Lighthouse is a historic landmark in Rockland Harbor. It sits at the end of a 0.75-mile breakwater. Because of that, a round-trip visit is about a 2-mile walk, which is the perfect activity for your dog to enjoy.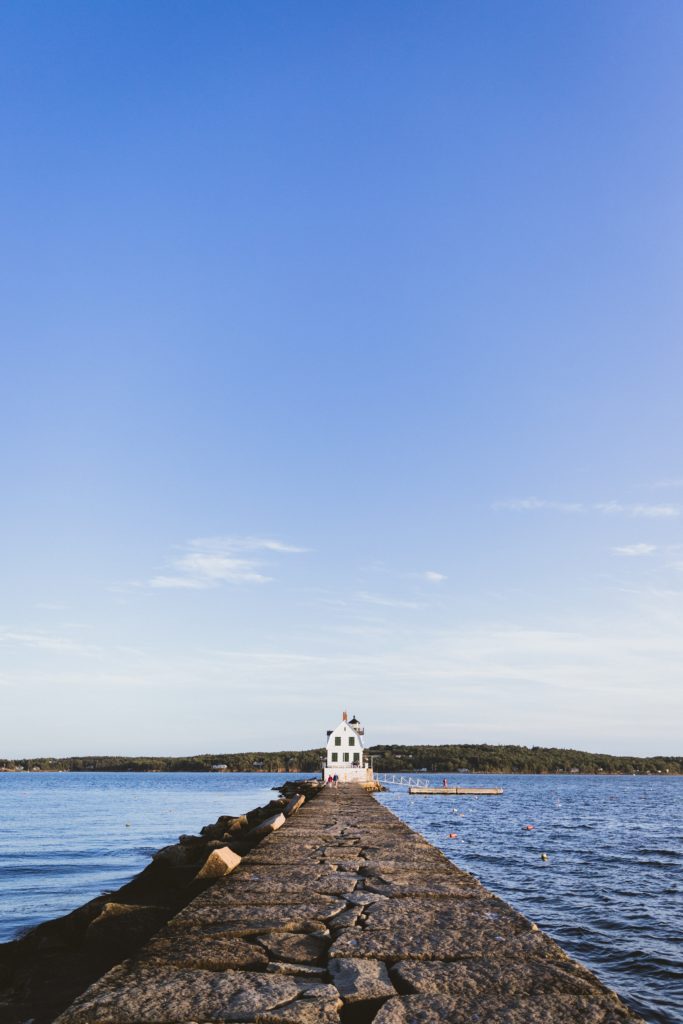 Owls Head Light
Located on the western side of Penobscot Bay, the Owls Head Light is an active lighthouse that aids navigation into the harbor. It sits at the center of Owls Head State Park, which stretches across 13 acres. Filled with history for you and nature for your pet, it's a great activity for your Rockland trip.
Maine Lobster Festival
If you want a fun event during your stay, the Maine Lobster Festival is a dog-friendly event that opens near the end of July or beginning of August. It's held in Rockland Harbor Park every year. You and your four-legged friend can enjoy a parade, contests and other entertainment. Let's not forget the thousands of pounds of lobster to indulge in too.
Best Restaurants With Outdoor Seating for Your Pet
You and your furry friend are bound to work up an appetite doing these pet-friendly activities in Rockland. Fortunately, there are many restaurants that allow dogs.
The Brass Compass
The Brass Compass Cafe is a famous spot that was featured on "Throwdown! with Bobby Flay." Chef Lynn Archer won the competition with her Lobster Club Sandwich. All of her dishes use local seafood, produce and other fresh ingredients. Best of all, there's plenty of outdoor seating to eat with your pet.
The Landings
The Landings also features local seafood. Its roasted lobster pie, fresh-baked sea scallops, and lobster BLT are very popular dishes. However, there are nonseafood menu items too. You can enjoy your meal outdoors on one of the sofas or at the table, and the staff provides water bowls for your furry friend.
Claws
With outdoor seating as well, Claws draws in customers with its popular lobster bisque and lobster burger. There are many other seafood menu options as well. In addition, the restaurant provides a water bowl for your dog.
Best Store and Services for Your Pet
Loyal Biscuit Co.
Aside from pet-friendly things to do in Rockland Maine, you can pick up a treat for your dog. Loyal Biscuit Co. is a boutique with several brands of all-natural treats and foods for cats and dogs. Did your pet get dirty during a hike? Stop by the store's self-serve dog wash for a bath.
Rockland Animal Hospital
For pet medical services, dog owners can go to Rockland Animal Hospital. It's worrisome for your pet to get hurt during a trip. However, you can rest easy when your furry friend is in professional hands. This animal hospital is well-established and offers full-service veterinary care.