Boothbay and Boothbay Harbor Maine are full of fun, family-friendly things to do. Among the attractions, the Boothbay Railway Village Museum is a local favorite with educational and hands-on activities for all ages. Here's everything you need to know about this living museum before your visit.
Get our complete vacation guide to Mid-Coast Maine. Many of the best places throughout Camden, Rockland, and Rockport.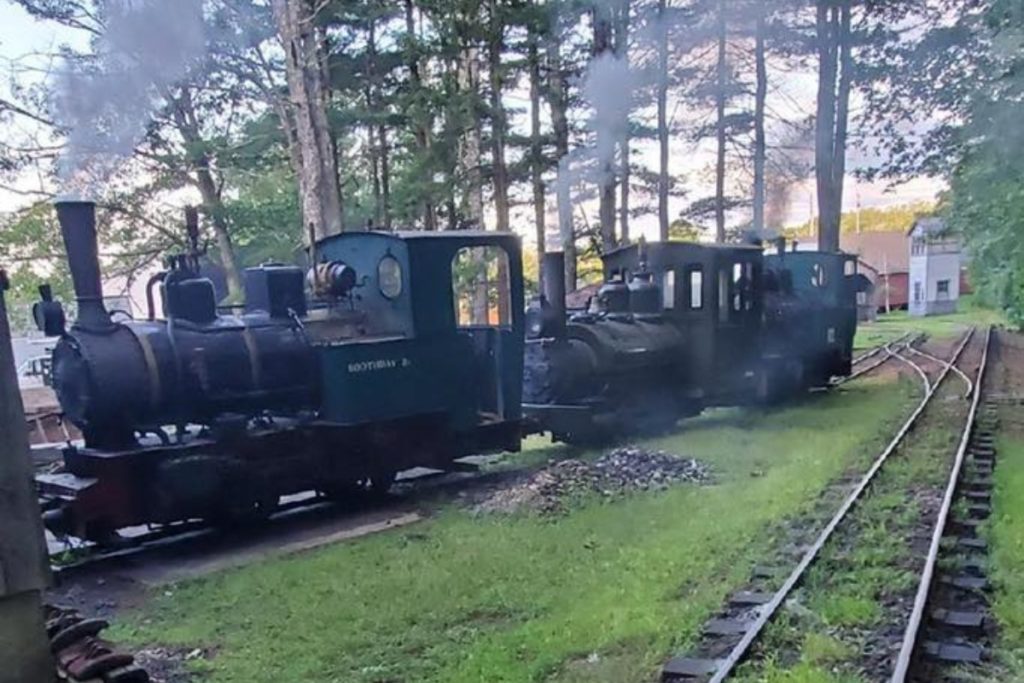 About the Railway Village Museum in Boothbay Maine
Located in Boothbay Maine, the Railway Village Museum is one of the most unique attractions in all of New England. This 35-acre living history museum has preserved authentic mid-1800s to mid-1900s buildings and technologies for visitors in MidCoast Maine to explore and learn.
Within the recreated village, you can experience model trains, ride an authentic steam locomotive, and see a collection of 60 antique automobiles. It's a true step back in time!
The History of the Museum & Maine Railroads
When it came to railroads, Maine built a unique narrow gauge system to reduce construction and operation costs so that the tracks could be built in non-economically feasible areas. At the peak, there were more than 200 miles of narrow tracks transporting freight and passengers.
George McEvoy, the founder of the Boothbay Railway Village Museum, filled his family home with a substantial amount of railroad memorabilia. Needing somewhere better to store his collection, he bought Freeport Station in 1964.
Then, he began looking for a narrow gauge steam train and imported a 1913 German-built Henschel. By 1965, he opened the museum as Maine's first public railway museum. After many successful years, the museum became a nonprofit organization. Also, it has continued to expand with fun things to do.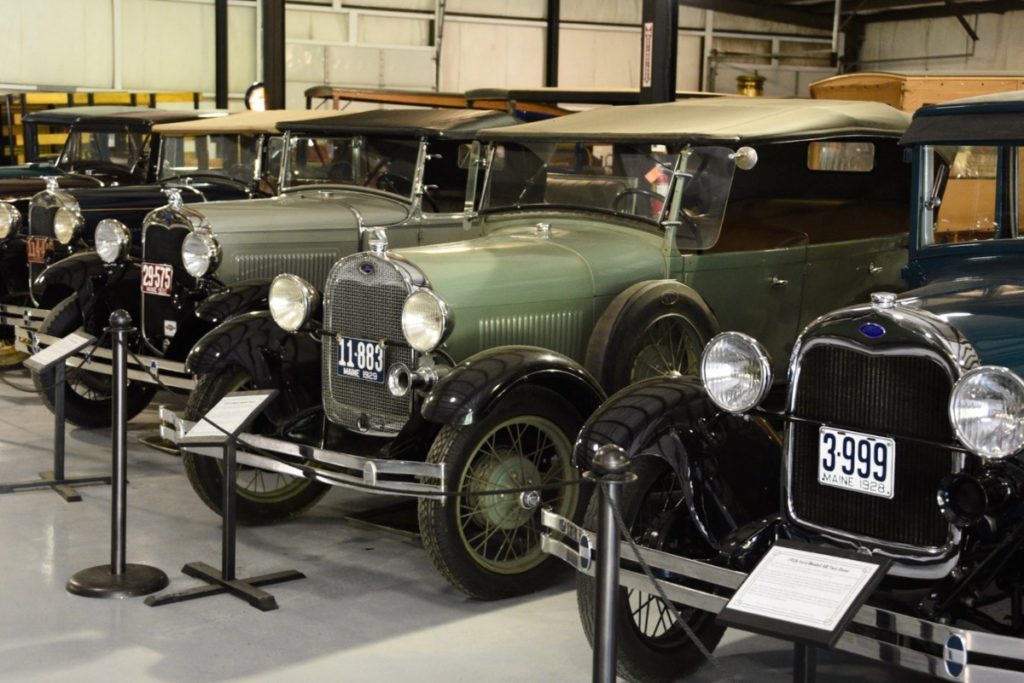 Boothbay Railway Village Museum Things to Do
The Railway Village Museum has more than 30 things to see and interact with across its 35-acre campus. Here are some of the best attractions that you don't want to miss!
Antique Automobile Museum
Displaying more than 60 automobiles and trucks built from 1902 to 1962, the Antique Automobile Museum has an amazing collection. The vehicles illustrate the engineering feats and technological advances that made vehicles widely accessible at the time.
If you come at the right time, you could ride in a 1925 Model T. Also, this automobile collection features vintage gas pumps, service manuals, oil cans, and more. Attendants are stationed inside to answer questions about the collection too.
Artisans at Work
Do you want to see how craftspeople make their creations? The Railway Village Museum is always looking for ways to bring the Maine crafts and handiwork of eras gone by to life for the public to see. It offers open-air demonstrations through the afternoon, and you can purchase some of the wares.
Iron Horse Antiques + General Store
Near the entrance to the Railway Village Museum, the Iron Horse Antiques + General Store is the ideal place to find creative treasures of all kinds. This shop has more than 15 vendors inside, so it could take a while to explore everything they offer — from antiques and collectibles to artisan products and home decor.
We recommend that you make the general store your final stop before leaving so that you don't have to carry your purchases with you all day.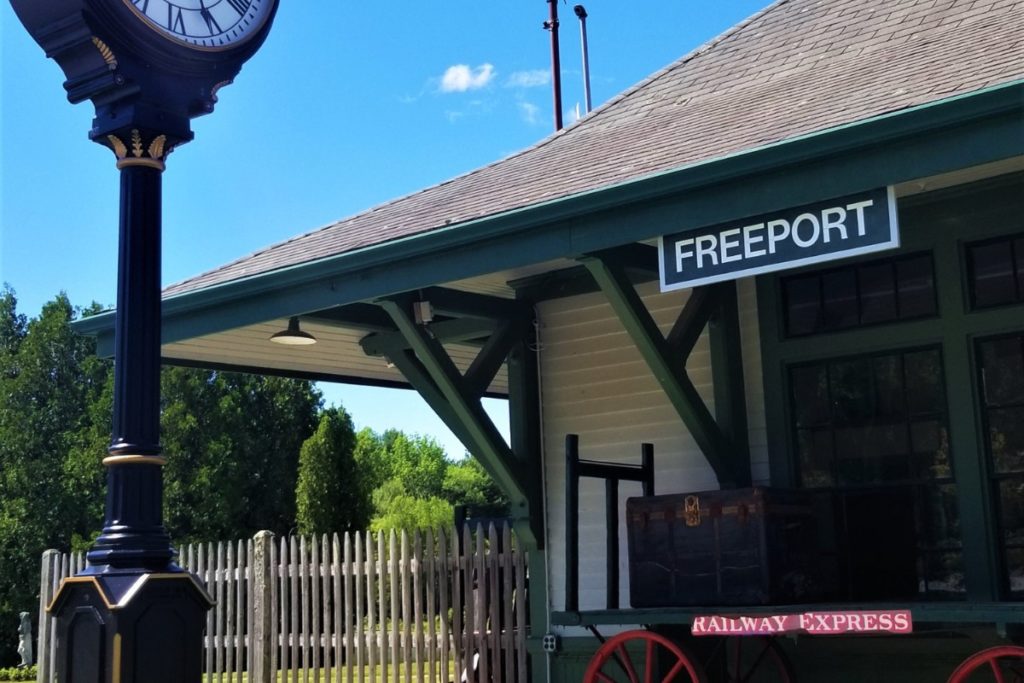 Historic Freeport Station
Built in 1912 in the New York Central style, Freeport Station was the first building and inspiration for McEvoy's vision of a railway village in Maine. He believed that, rather than be the highest bidder for the property, the Maine Central Railroad Officials favored his idea to use the station as the centerpiece for the museum.
Since Freeport Station wouldn't fit on his family's Southport property, McEvoy found a 15-acre piece of land in Boothbay. The station was divided into nine pieces and transported to its current location over three days.
Freeport Station is one of two authentic train stations in the railway village — the 1871 Thorndike station is the second. Plus, there are at least a dozen other Maine railroad buildings, including a unique crossing shanty and car houses.
Model Railroad Exhibit
The Maine Narrow Gauge Model Railroad was built in 2019 and continues to grow. The 3.5-scale-mile exhibit tells the story of railroading in the state during the 1950s and 1960s with artifacts, photos, and more.
Housed in the dedicated Ronald E. Spinney Building — a historic freight station replica — the 600-foot track is one of the best model railroads in the region.
Train Rides
While seeing the model railroad is awesome, you can get a firsthand experience of riding the narrow gauge rails at the Boothbay Railway Village Museum. There's a fleet of steam and diesel locomotives, including three, 1913-1938 Henschel steam engines and a 1940s Whitcomb diesel engine.
Generally, the train rides depart at the top of every hour between 11 a.m. and 4 p.m. However, we recommend that you confirm the schedule ahead of time. The trains operate on a two-foot gauge track that's about three-quarters of a mile long.
Operate a Steam Train
For a once-in-a-lifetime experience, you can make a reservation to operate one of the Henschel steam locomotives through the Engineer's Society program. Upon arriving at the museum, you'll work directly with the chief engineer and learn about railroad safety and operating the engine.
After the instruction, you'll get to operate the train engine for about 30 minutes under the supervision of the chief engineer. You even have the chance to help with parking the locomotive for the evening.
Events & Festivals on the Village Green
The Boothbay Railway Village Museum is about more than learning about the history of Maine's railroads. The Village Green at the museum hosts a lot of events and festivals throughout the year. You could even plan your MidCoast Maine visit to attend one of these:
Cars and Coffee — last Sunday every June through August
Antique Auto Day — July
Children's Day — August
Fall Foliage Festival — early October
Railway SPOOKtacular — late October
North Pole Express — weekends in December
Private Events
If you want to attend an event at the museum, you can go as far as to plan your own. The museum is available for weddings, family reunions, retirement parties, and other private events. You can even plan a caboose birthday party complete with a shady picnic.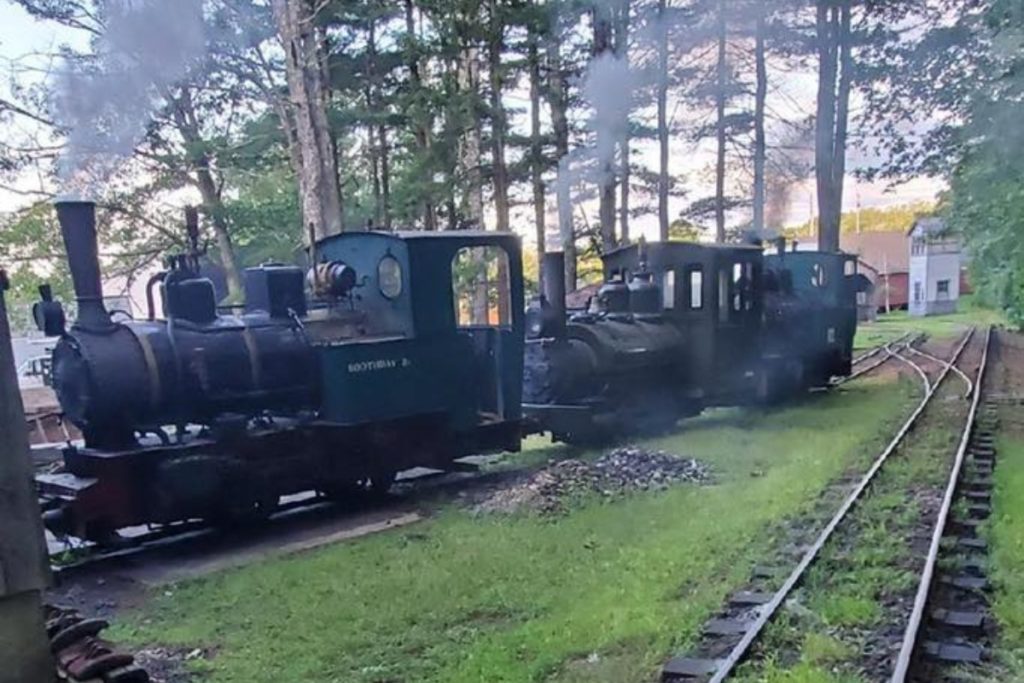 Tips for Planning Your Railway Village Museum Visit
The Boothbay Railway Village Museum is committed to making its facilities and attractions universally accessible. Most of the unpaved roads are firm, stable, and level. Plus, most of the entrances to the historic buildings are wheelchair accessible.
Train Accessibility
While the railroad may be more challenging for some guests to access, ramped access can be provided for an open coach car with 24-hour advance notice. The engineers and conductors are also happy to help individuals overcome the two or three steps up into the train cars.
Pet-Friendly Museum
If you're traveling MidCoast Maine with a furry loved one, you're welcome to bring it into the museum as long as it behaves well and stays on a leash. Your pet can even ride the train with you!
Get our complete vacation guide to Mid-Coast Maine. Many of the best places throughout Camden, Rockland, and Rockport.
Restaurants Near the Boothbay Railway Village Museum
Since the Railway Village Museum is less than a 10-minute drive from Boothbay Harbor, there are plenty of restaurants to grab dinner in the evening. Here are a few of our favorites.
Marcel's Submarine Shop
Near the Boothbay Harbor Footbridge, Marcel's Submarine Shop serves gourmet sub sandwiches on house torpedo rolls with pepper, salt, and extra virgin olive oil on the side. The shop is a great place for beers on tap and signature cocktails, and it has an extensive list of bourbon spirits.
PORTS Pizzeria
For an Italian bistro experience, head to PORTS Pizzeria for brick oven pizza made with "some of the best ingredients on Earth" — Italian mozzarella cheese and flour, local vegetables, extra virgin olive oil, and San Marzano tomatoes.
Alongside pizza, the bistro serves delicious Italian entrees and salads. And, you can order beer, cocktails, and wine to complement your meal.
Boothbay Lobster Wharf
There's no better place to get lobster than in Maine, and the Boothbay Lobster Wharf has the freshest lobster around. You can actually watch the lobster fishermen bring in their catches, and then, pick out the lobster that you want.
The working lobster dock also serves fried seafood, hot dogs and burgers, salads, wraps, and more. The full bar offers all kinds of drinks, and you can enjoy live music while you dine on the dock.
Boothbay Craft Brewery
A destination of its own, the Boothbay Craft Brewery is the area's premier brewery and tavern. The farm-to-table dining experience features wood-fired skillets, flatbreads, and burgers with craft brews, signature cocktails, and wine.
If you have time, you can take a tour of the brewery before you have dinner. Afterward, you can find the hidden speakeasy bar and game room as well.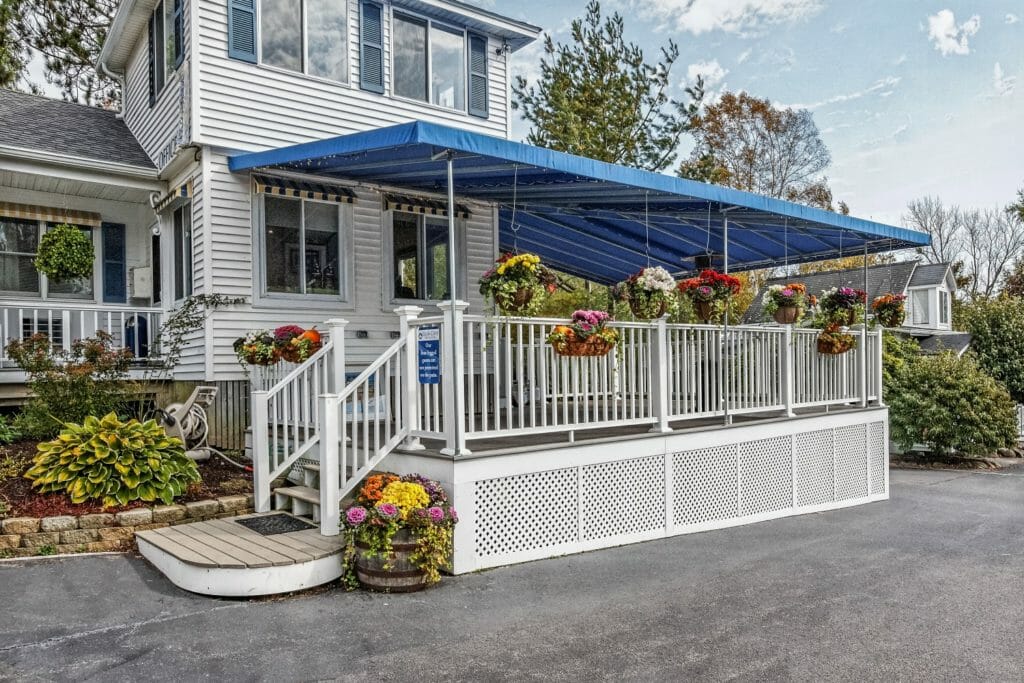 Best Place to Stay for Visiting the Boothbay Railway Village Museum
To experience all that MidCoast Maine has to offer, including the Boothbay Railway Village Museum, consider staying at Glen Cove Inn & Suites in Rockport Maine. We're in a central location in the region, offering access to nature and attractions all around.
Our quaint guest rooms and suites are available from May through October, and we welcome four-legged family members to join you. Before your railway adventure, you can fuel up on our more-than-continental breakfast. When you return, you can relax in our outdoor heated pool and take advantage of our other amenities. Find a room for your travel dates today!
If you're traveling from November through April, our sister location — The Country Inn at Camden Rockport — is more than happy to accommodate you. Here, we offer cozy rooms and suites and fantastic amenities, such as an indoor heated pool and hot tub. When you're ready to book off-season lodging, check our availability.
Get our complete vacation guide to Mid-Coast Maine. Many of the best places throughout Camden, Rockland, and Rockport.