Some of the best hiking in Maine is located in Rockland and Rockport. Those that lead to the tops of hills and mountains give you panoramic views of the coastline, harbors, and Penobscot Bay. You won't want to miss out on our favorite trails for hiking Rockland Maine.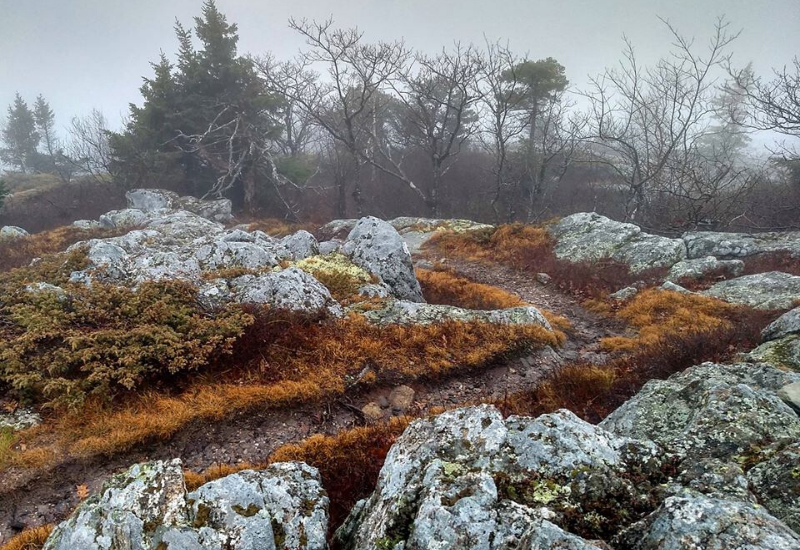 Aldermere Farm Preserve Trails
If you visit Aldermere Farm Preserve, you should check out its two trails. This working farm, which raises Belted Galloway cattle, offers educational tours of its facilities. You can hike one or both trails with a staff member to learn even more about the farm. One trail runs along Penobscot Bay and the other ends at Lily Pond. Although both trails offer fairly easy hikes, some sections are uphill.
Erickson Fields Preserve Trail
Formerly a Rockport dairy farm, Erickson Fields Preserve educates anyone who wants to learn about sustainable agriculture. It also has gardens and a 1.4-mile trail that loops through a forest and field. Fitness stations are installed in case you want an additional workout.
Get our complete vacation guide to Mid-Coast Maine. Many of the best places throughout Camden, Rockland, and Rockport.
Request the Vacation Guide
Hiking in the Preserves of Coastal Mountains Land Trust
The Coastal Mountains Land Trust manages numerous preserves throughout MidCoast Maine. Three of them are in Rockport and near Rockland, and all of them offer easy hikes for anyone to enjoy.
Beech Hill Preserve Trails
Stretching for 295 acres, Beech Hill Preserve features a stone hut that was built in 1914 on top of a hill. The preserve protects the organic blueberries and bird habitat on the land. In fact, 141 bird species call the preserve their home.
Also, it features two trails. Summit Trail is 0.6 miles in one direction and offers views of Penobscot Bay and surrounding mountains. Woods Loop winds through scenic fields and mature forest for 0.9 miles and is a quieter trek to the hilltop.
Sides Preserve Trail
To the southeast of Maces Pond, Sides Preserve is just 9 acres but protects the pond's outlet and the bird habitat. A lot of people go fishing at the pond for warm-water species. The preserve has a short, 0.4-mile trail loop that follows the waterfront. In the fall, you can see blooming witch hazel flowers.
Harkness Preserve Trail
With an overlook of Rockport Harbor, Harkness Preserve featured mature American chestnut trees until 2010. The 23-acre preserve has a limekiln chimney cap too, which is a remnant of the town's history. Its 1-mile trail loop is suitable for young families, and there are two hand-built footbridges that cross Ott Brook.
Exploring Georges Highland Path
With 50 miles of trails across its network, Georges Highland Path has a lot to explore. Some of it provides the best hikes in Rockport for those who want a challenge. However, there are some opportunities for easy hiking Rockland Maine as well.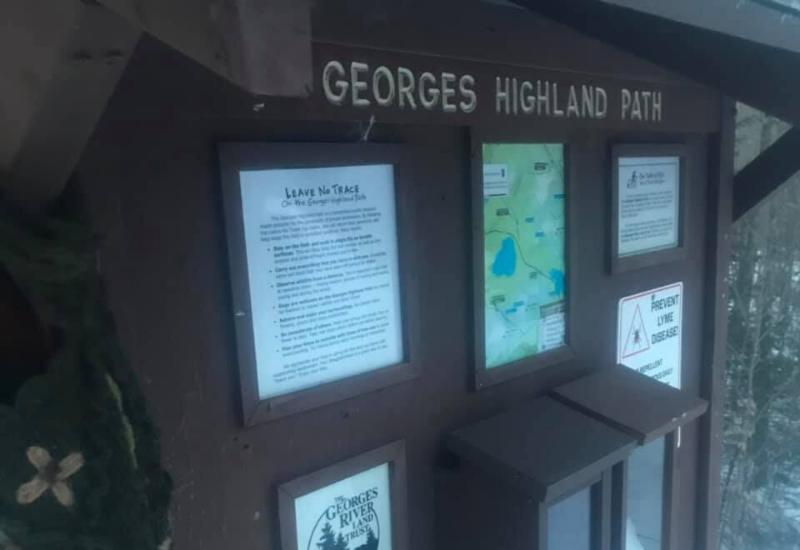 Hiking Trails in Rockport
Ragged Mountain Trail
Rising 1,200 feet, Ragged Mountain is located partially in Rockport and Camden. Its trail is one of the steepest and most taxing to hike in MidCoast Maine. What makes it one of the best hikes, though, is the view from all directions when you get to the top. You can see Penobscot Bay, its many islands and a horizon of mountains.
Mount Pleasant Trail
For an out-and-back trail with a series of panoramic views, hike the Mount Pleasant Trail. From Pleasant Street, it begins alongside a raspberry field, runs across the mountain and passes through a coniferous forest and blueberry field. You get views of Penobscot Bay, Camden Hills State Park, and Meadow Mountain along the way.
Spruce Mountain Trail
Connected to the Mount Pleasant Trail, Spruce Mountain Trail is a short hike with great views of Penobscot Bay and Ragged Mountain. It's where locals take family and friends from out of town to show off the area in one quick stop. After trekking through a hardwood forest for about 20 minutes, you reach a clearing before the trail continues into the forest and lowlands. Since it's connected to Mount Pleasant Trail, you can hike both in one trip.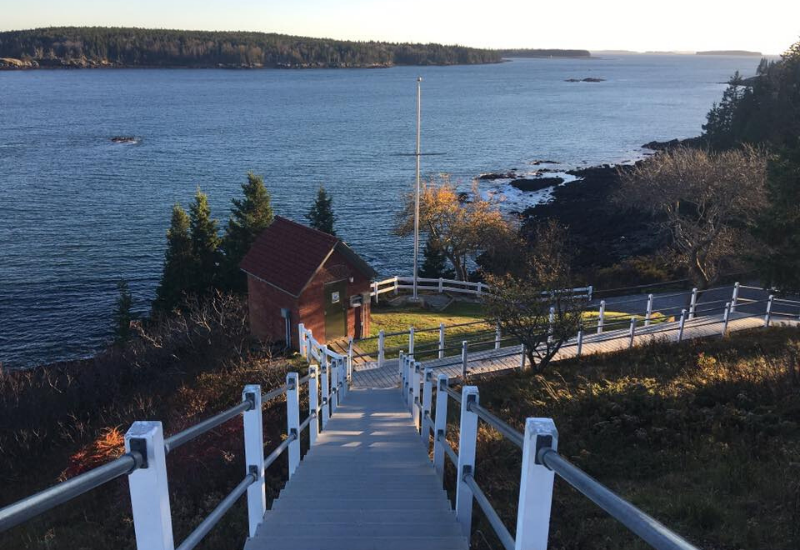 Trails for Hiking Near Near Rockland
There are many hiking trails near Rockland, and Maine Trail Finder is one of our favorite places to locate the best hiking in MidCoast Maine.
Oyster River Bog Trail
Also called Rockland Bog, the Oyster River Bog is a woodland that stretches across Rockland, Rockport, and Warren for 6,000 acres. More than 1,600 acres are protected by conservation efforts. The trail is a great hiking opportunity through the woods for all ages. With forests, wetlands, peat bog and streams, its diverse natural resources are the perfect habitat for a remarkable variety of plants and wildlife. Since there are some abandoned paths, make sure that you follow the trail of blue blazes.
Thomaston Town Forest Trail
Passing through a 500-acre forest on the east side of the Oyster River, the Thomaston Town Forest Trail offers wonderful views of the river. You'll hike through woods of coniferous and other trees, which is home to moose, deer and wild turkey. The trek takes you to Split Rock, a gigantic glacial erratic, which is a piece of rock that isn't native to the area.
Since the Thomaston Town Forest Trail and Oyster River Bog Trail are close to each other, you have the opportunity to hike both in one trip. Combining them gives you a 10-mile hike.
Ash Point Preserve Trail
Covering 34 acres in Owls Head, Ash Point Preserve has been open to the public since 2017 and offers scenes of Ash Island and Penobscot Bay. It protects a forest of spruce trees and clusters of birch trees. The easy, 1.3-mile trail goes through a forest and groves, passes old stone walls and ancient apple trees, and ends at a granite shoreline that stretches for 2,140 feet.
Jones Brook Area Trails
The Jones Brook Area of the Georges Highland Path features three trails. The Town Forest Trail is a 0.75-mile loop through a wooded area of balsam fir, spruce, and white cedar trees. It also runs along a thicket of alder trees, and there's a small waterfall on the west side.
The Jones Brook Trail is 1.5 miles and connects to the Town Forest Trail. It passes through another wooded area and by moss-covered granite outcrops. You can continue the trek on Fort Point Trail, which is 0.5 miles and leads to the remnants of Fort Point, which was built in 1809. The fort protected American shipping lanes from French and British assaults during the Napoleonic Wars.
Get our complete vacation guide to Mid-Coast Maine. Many of the best places throughout Camden, Rockland, and Rockport.
Request the Vacation Guide
Best Place to Stay for Hiking Rockland Maine and the MidCoast Region
When you're completing some of the best hikes in MidCoast Maine, you need comfortable accommodations to rest well. The above trails for hiking Rockland Maine and others throughout the region are just a short drive from Glen Cove Inn & Suites.
If you want to learn more about the area during your journey, there are numerous historical sites and museums nearby too.
Before you head out each day, be sure to take advantage of our fresh, more-than-continental breakfast!