The end of summer and early fall are the most popular times for fairs, and this holds true for the Union Fair Maine hosts. This annual celebration of agriculture has been held since 1869, attracting people from far and wide. If you're planning to visit MidCoast Maine and the Union Fair in 2023, here's what you should know before you go…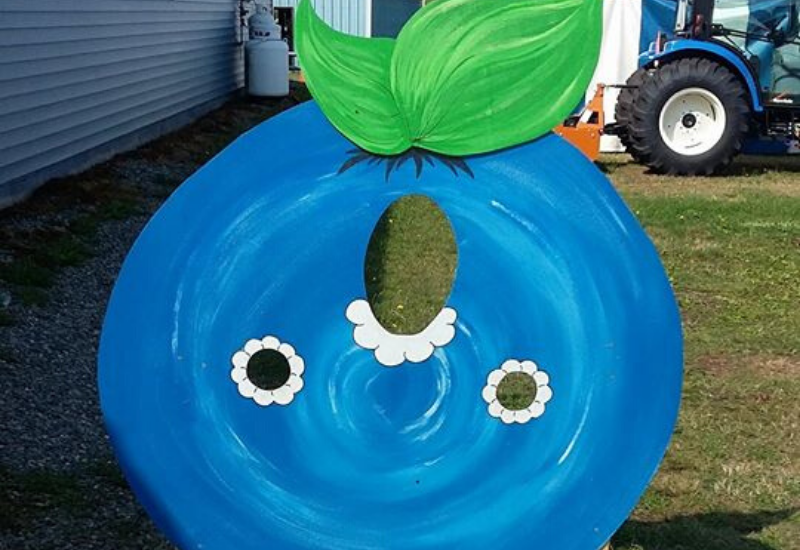 History of the Union Fair Maine Residents and Visitors Love
Except for two years, the Union Fair has been held every year since 1869. With all of them being held in Union since 1886, it has become one of the biggest celebrations of agriculture in Maine. Over the years, more exhibits, activities, and entertainment have been added as interest has increased in the improvement of agricultural machinery, household crafts, farm life, and livestock. Food concessions started making an impression in 1885 with hot dogs, popcorn, ice cream, and more.
The Introduction of the Wild Blueberry Festival Maine Celebrates
It wasn't until 1959 that this family-friendly fair added the Wild Blueberry Festival to its series of events. It was introduced because wild blueberries are abundant in the area. The first festival included blueberry pie-eating and pie-baking contests. Every visitor got free pie too. In 1961, the festival added a pageant to choose a Blueberry Queen.
Get our complete vacation guide to Mid-Coast Maine. Many of the best places throughout Camden, Rockland, and Rockport.
Request the Vacation Guide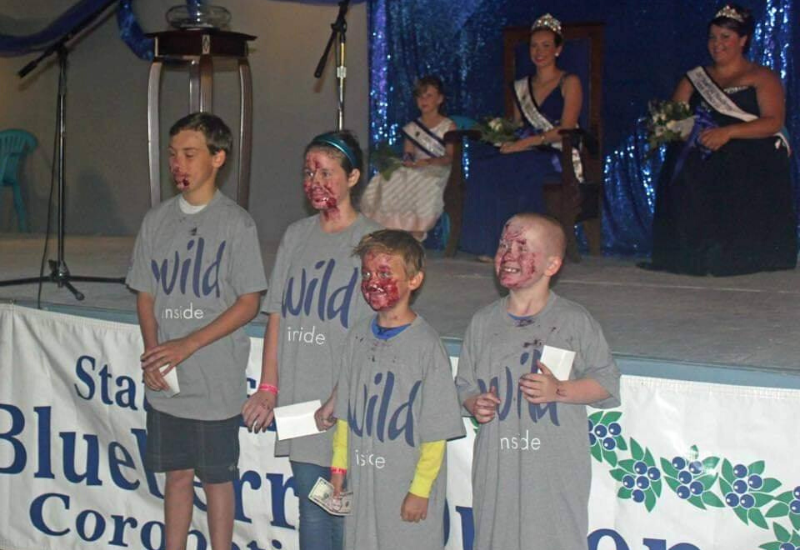 Activities and Entertainment to Expect at the Union Fair
Although the Union Fair has been held for more than 150 years, it continues to offer a robust schedule of entertainment and activities for all ages. These events are held over the course of a full week in August. Here's a look at everything that you can expect to find and do.
Exhibition Hall
From the beginning, the Exhibition Hall has been a mainstay of the Union Fair Maine. While many of the same exhibits are still there, such as beautiful quilts, many young people have their own displays of vegetables, art, photography, baking, and handiwork. Also, the Exhibition Hall features the Methodist Church Cafe, which serves great daily specials and pies.
Matthews Museum of Maine Heritage
As one of the best-kept secrets in Maine, Matthews Museum of Maine Heritage has more than 10,000 artifacts on display. They reflect the lifestyles, ingenuity, and history of Maine residents since the 18th century.
4-H Farm-to-Fair Exhibits & Shows
Every day, the University of Maine Cooperative Extension holds farm-to-fair exhibits at the Union Fair through the 4-H program. This positive youth development organization empowers youths to reach their potential. The livestock exhibits are held in a yurt, while the animals are kept in a large open barn. You can also watch 4-H demonstrations and shows.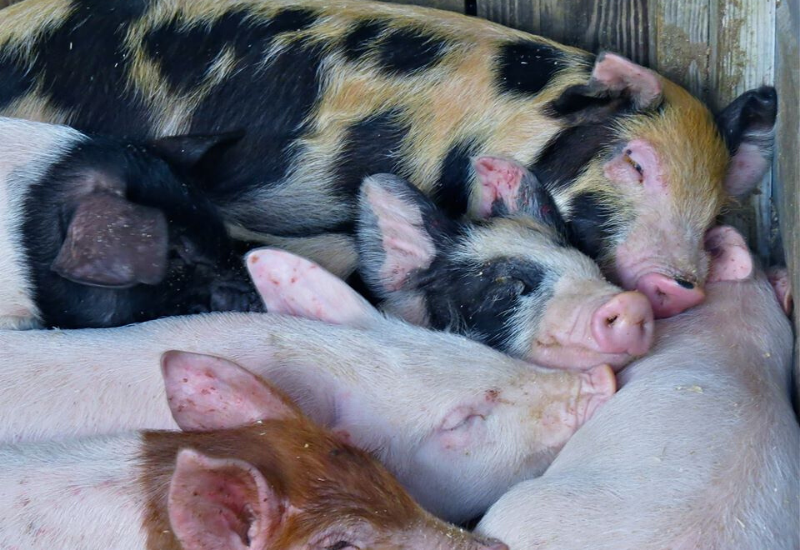 Livestock Shows & Auctions
In the beginning years of the fair, local farmers brought their best livestock to be judged and put up for auction. That practice continues with shows and auctions. You can visit with the animals during these activities.
Also, there's a youth market auction that gives young people the opportunity to raise beef steer, laying hens, and market lamb. Then, they get to sell them at auction.
Livestock Pulling
Livestock pulling is a sport based on when farmers would challenge each other to see whose horses or oxen could pull the most weight. The competitors train their livestock for this truly unique event through regular exercise rather than traditional work.
Harness Racing
Since 1902, the Union Fair has featured highly trained horses in harness racing for bragging rights and prizes. The racetrack at Union Fairgrounds was the first track in Maine to remove the hub rail on the inside of its half-mile track which has made the races safer.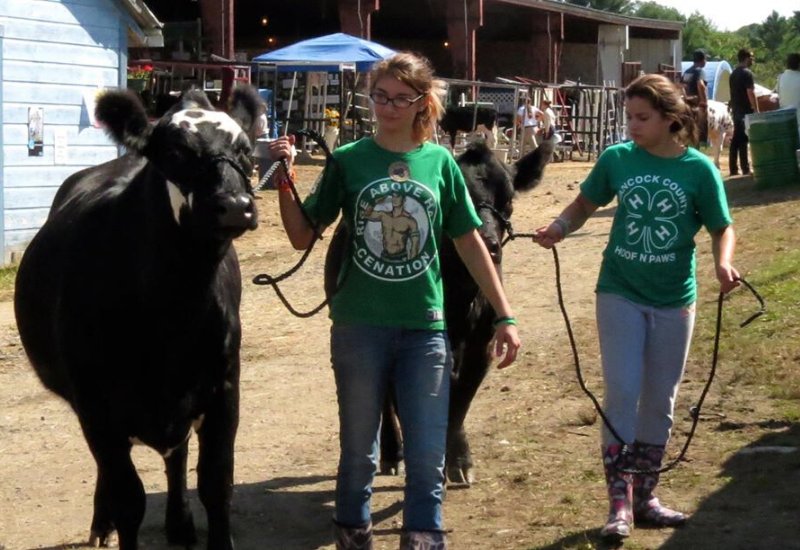 Lawn Mower Racing and Demolition Derby
Relatively new at the Union Fair is lawnmower racing. Anyone can participate, and onlookers have just as much fun. The demolition derby is another family-friendly activity, and it may have the highest number of attendees. It involves crashing anything into anything, including 4-cylinder cars, small trucks, and minivans. Anyone can participate in the crashing too.
Wild Blueberry Festival
Not much has changed in the more than 50 years of the Wild Blueberry Festival at Union Fair. There are still pie-baking and pie-eating contests. In addition, there are blueberry dessert and muffin contests. There's also a separate category for young bakers ages 6 to 15.
A pageant to choose the Blueberry Queen to represent the industry for the following year is still an event too. She appears in special state events, parades and charitable events to promote the Union Fair and Maine wild blueberries.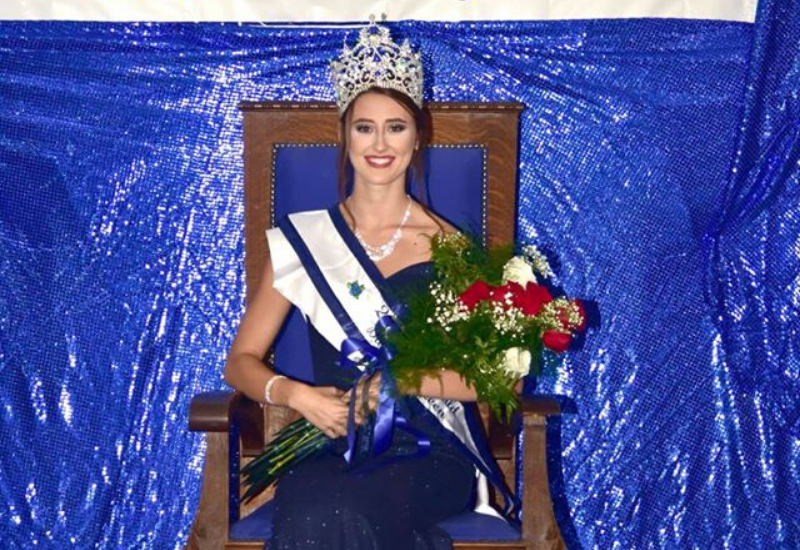 Talent Show
Anyone who can sing, dance, juggle, play music, or make people laugh can audition for the Union Fair talent show. Along with a category for contestants ages 16 and younger, there's a separate category for contestants ages 17 and older. Those who don't want to participate can enjoy the entertainment of the semifinals and finals.
Music & Concerts
Aside from the talent show, the Union Fair secures a full schedule of music and concerts. Its goal is to offer a variety of entertainment for the whole family. Sometimes, beer and wine are allowed at these events.
Maine Craft Beverage & Wine Pavilion
Speaking of beer and wine, the Maine craft beverage and wine pavilion offers samples of honey, grape, blueberry, and other fruit wines from more than 20 state wineries. It has a selection of Maine-made beer and spirits as well. The pavilion even hosts a varied schedule of experiences.
You can even visit one of the local wineries near Rockland on your way home!
Rides on the Midway
Dominating the view of Union Fairgrounds as you approach is a giant Ferris wheel. It's one of the many kid-friendly rides and games on the midway. There's a kiddie midway area so that the little ones can enjoy their first experiences on fair rides too. Also, the midway offers a lot of food options, such as popcorn, funnel cake and more.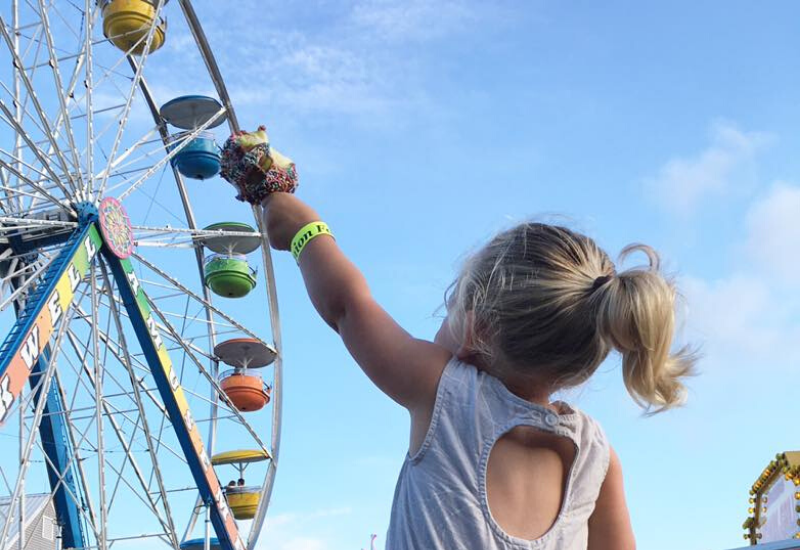 Fireworks
No matter where you are at the Union Fair, you'll be able to see the fireworks light up the evening sky. A crowd favorite, the fireworks are usually on the schedule for the middle of the weeklong event.
More Kid-Friendly Activities
Along with the above family-friendly things to do at the Union Fair, there are more activities for children throughout the week. Some of these include:
Bicycle giveaways
Barnyard games
Kids cooking contest
Tractor pulling
Cookie decorating
Dance Maine-ia
Horse and rabbit shows
Small domestic pet show
Pig scrambles
Connect-4 tournament
A balloon artist, juggler, and clown are at the fairgrounds to offer children's entertainment as well.
General and Special Admission Information
An all-inclusive pass into the Union Fair is $12. It includes all exhibits, entertainment, same-day re-entry, and unlimited midway rides. Special admission prices are available for certain days too.
Get our complete vacation guide to Mid-Coast Maine. Many of the best places throughout Camden, Rockland, and Rockport.
Request the Vacation Guide
Best Hotel Near the Maine Union Fair & Wild Blueberry Festival
Glen Cove Inn & Suites is one of the best places to stay when it's time for the Union Fair and Wild Blueberry Festival Maine hosts. Located less than 20 minutes east of Union Fairgrounds, our MidCoast traditional roadside Maine motel offers a variety of amenities, including a wonderful breakfast, heated outdoor pool, and complimentary Wi-Fi. On top of that, we're conveniently located to many other events and festivals in the area.