Many restaurants near Rockland, Maine, serve fresh, locally sourced food on their menus. If you're visiting the area on vacation, it might take a few days for you to experience the best of what this MidCoast region has to offer. One thing is for sure, though – you won't want to miss the delicious offerings at Cafe Miranda Rockland Maine!
About Cafe Miranda and Chef Kerry Altiero
The Cafe Miranda restaurant in Rockland, Maine, is a true local joint. With a passion for making multicultural cuisines, in 1993 Chef Kerry Altiero renovated the historic Owl Benevolent and Fraternal Club building and opened an edgy and intimate multi-cultural cuisine restaurant in the heart of downtown Rockland.
Along with combining his Italian heritage with local flavor, Chef Kerry practices sustainability. As a result, the Maine Department of Environmental Protection recognizes Cafe Miranda as an Environmental Leader. Also, Chef Kerry has been named Chef of the Year and Maine Lobster Chef of the Year. Cafe Miranda has been awarded Best Farm to Table Restaurant as well.
Get our complete vacation guide to Mid-Coast Maine. Many of the best places throughout Camden, Rockland, and Rockport.
Request the Vacation Guide
Headacre Farm
As an award-winning farm-to-table restaurant, Cafe Miranda Rockland Maine gets fresh fruits, herbs, and vegetables from Headacre Farm, which is owned by Chef Kerry. Located just a few minutes away in Owls Head, the 17-acre farm is run by Anne Perkins. She also grows beautiful flowers and uses organic, responsible practices to ensure that the farm is a vibrant and productive part of the local community.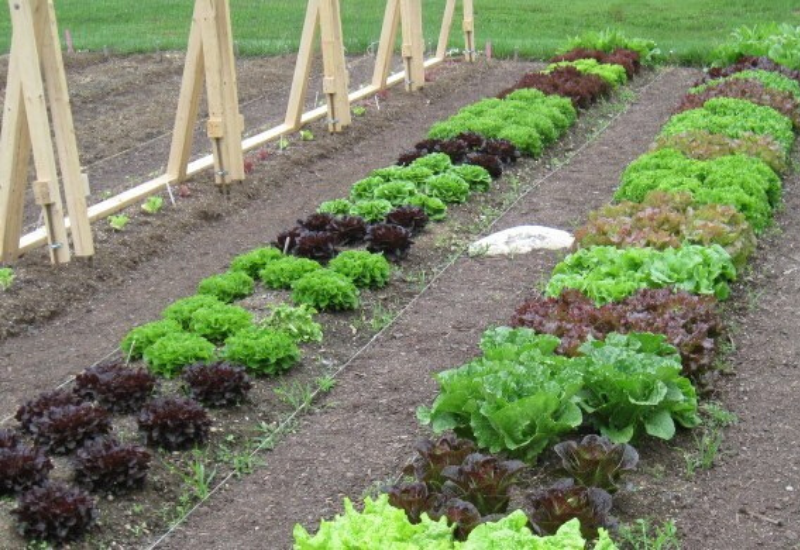 On occasion, the public is welcome to visit Headacre Farm for Open Farms Days. You can check out the farm's Facebook page to learn more.
Location and Hours
The Cafe Miranda restaurant is located on Oak Street, which is right off of Main Street in downtown Rockland.
You can enjoy Sunday brunch from 10:30 a.m. to 2 p.m. Lunch is available Monday through Saturday from 11:30 a.m. to 2 p.m. You can get supper every day from 5 p.m. to 8:30 p.m.
These times might change during holiday periods. If you're visiting during a holiday, we recommend calling ahead or visiting the restaurant's website to confirm its hours.
Unique and Eclectic Interior
You might not notice from the outside, but Cafe Miranda has an edgy and funky style.
The green exterior is beautifully decorated with window planters and flowers in the front. The restaurant's name is on a large black sign with white script above the entrance.
This sounds typical of a bistro, but the inside isn't traditional. The coral walls are embellished with portraits and a variety of other wall hangings.
It's a cozy, eclectic, small-town atmosphere where you can eat comfort food and laugh out loud. While there are only a few tables inside, the partially-covered patio in the back offers more seating.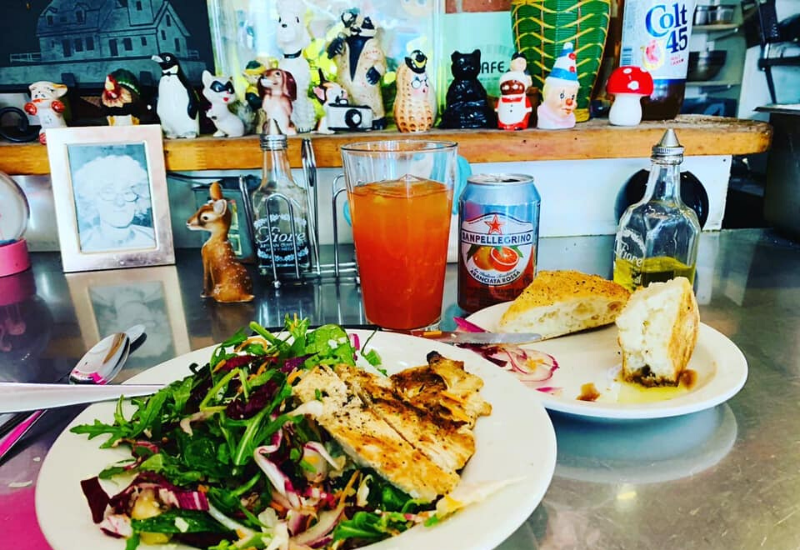 "My go to for everything… I have tried a lot of things on the menu and all have been great!" – Heidi L. on Facebook
The Cafe Miranda Menu
Although Cafe Miranda Rockland Maine is small, its menu is a force to be reckoned with. There is something for everyone to enjoy at the restaurant. Chef Kerry oversees the culturally diverse and seasonal menu, so the dishes change according to the available ingredients.
Housemade focaccia bread is one item that Chef Kerry is known for among the locals. As with all of his dishes, he makes it in a wood-fired, brick oven.
Focaccia bread isn't the only popular dish on the menu, though:
For brunch, wood-fired frittatas and omelets are popular.
The barbecue pork or chicken sandwich is topped with housemade barbecue sauce, mustard and lime cilantro slaw.
The lobster mac n' cheese features housemade noodles and is fire-roasted in the brick oven.
There are more than plenty of toppings for pizzas and burgers too, including roasted red peppers, roasted garlic, caramelized onions, and sauerkraut.
Reservations, Delivery and Catering at Cafe Miranda
If you want to plan your meal at Cafe Miranda, you can do so by making a reservation over the phone. For a lunch reservation, you need to have a party of at least six people. For dinner, you can reserve a table up to two weeks in advance.
When you want to stay home or at your hotel for dinner, you can have Cafe Miranda Rockland Maine deliver your order. If you're staying at Glen Cove Inn & Suites, your delivery fee is only $5. (The delivery fee increases the farther away you are from the restaurant.)
Cafe Miranda caters anniversaries, weddings, corporate meetings, cocktail parties, and other special occasions. Chef Kerry's capable team works with you to create a unique menu for your event. You can arrange pick-up platters, drop-off catering, full-service bartending, and full-service catering. The restaurant even has a mobile wood-fired oven to cater pizza and make a show of it.
Get our complete vacation guide to Mid-Coast Maine. Many of the best places throughout Camden, Rockland, and Rockport.
Request the Vacation Guide
Events to Support the Community
On top of running Cafe Miranda and catering services, Chef Kerry works with community organizations that focus on addiction and recovery, food security, homelessness, and kids.
He and his staff are proud to support and participate in local events as part of that effort. In the past, the restaurant has teamed up with The Gautschi Center to host a fun night in Rockland. The ticket proceeds go to the Area Interfaith Outreach Food Pantry.
The Cookbook
If you want to take some Cafe Miranda cooking home with you, Chef Kerry has authored the Adventures in Comfort Food cookbook. It features one-of-a-kind recipes that turn ordinary dishes into extraordinary flavor and make your dinner parties stand out.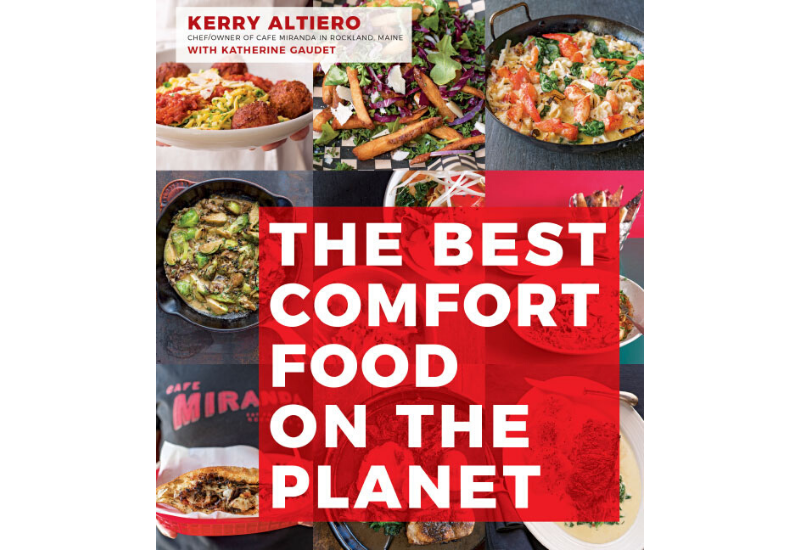 You'll want to try the recipe for French fries with two different kinds of cheese and brown gravy. Or perhaps you'll want to try a recipe that highlights the mild heat of jalapenos stuffed with ricotta and goat cheese.
Many news outlets have written reviews of Adventures in Comfort Food. Laura Serino of Downeast Magazine noted that the recipes are gutsy but familiar enough to open you up to new experiences. Kathleen Pierce of Bangor Daily News wrote that the recipes are witty and capture the "rock 'n' roll heart" of Chef Kerry.
Cafe Miranda Rockland Maine Merchandise
On the Cafe Miranda website, you can buy restaurant-related merchandise. The cookbook and its reissued version are available, as well as Cafe Miranda T-shirts, sweatshirts, gift cards, and event tickets.
Get our complete vacation guide to Mid-Coast Maine. Many of the best places throughout Camden, Rockland, and Rockport.
Request the Vacation Guide
A Short Drive From Glen Cove Inn & Suites
Located in the south end of Rockport, Maine, Glen Cove Inn & Suites is only a few minutes north of the Cafe Miranda restaurant. Our bed-and-breakfast accommodations provide the comforts of home while you vacation.
Our hotel is conveniently located near lots of shopping spots and pet-friendly things to do in Rockland. However, you don't have to take our word for it. Check out the customer reviews that have made us a top-rated hotel in the area.