Maine is known for its natural beauty — forested areas, sandy and rocky beaches, and lighthouses that dot the coastline. This breathtaking, varied landscape has inspired many artists over the decades. And, the Farnsworth Art Museum features thousands of those nationally recognized works.
Here's everything you need to know about the Farnsworth Museum before you visit!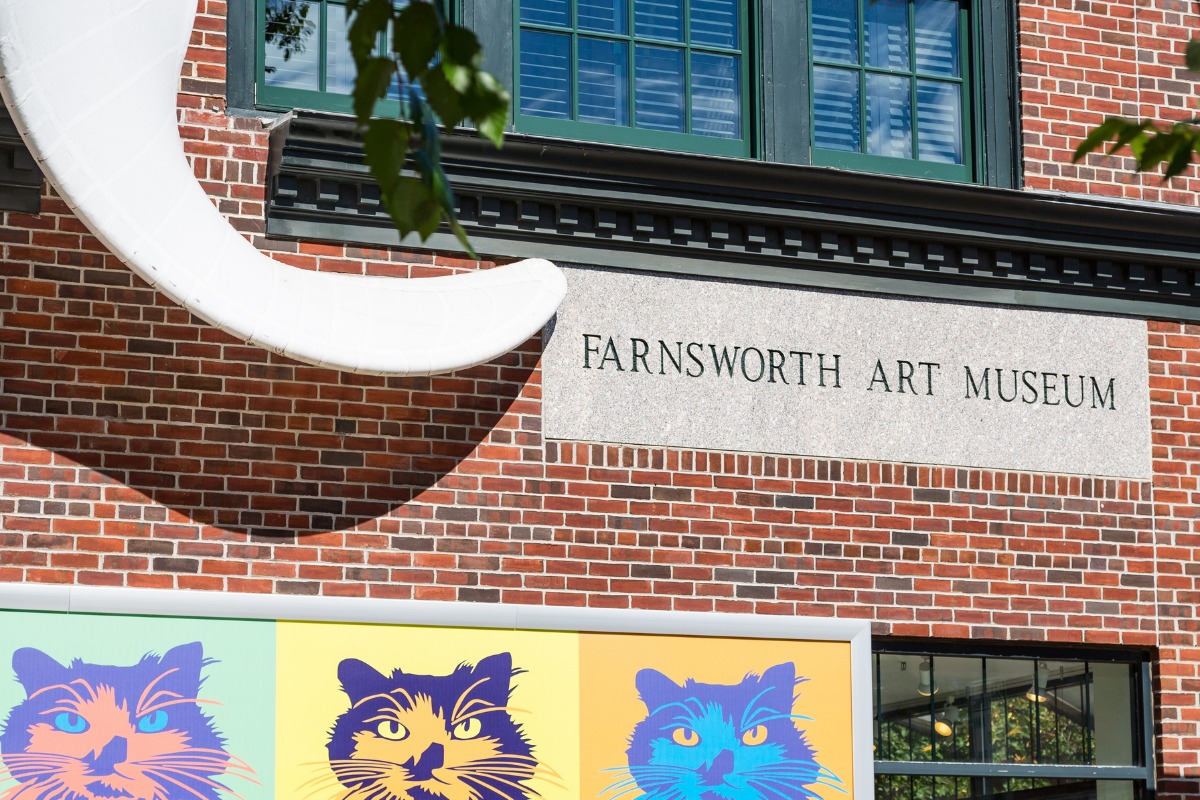 Celebrating American Art Since 1948
Established in 1948, the Farnsworth Art Museum in Rockland Maine is a campus of several buildings that were owned by the Farnsworth family from the mid-19th century to the early 20th century. It all started with William Farnsworth opening a general store in the 1840s.
At the time, the limestone industry was a big part of the local economy, and William got involved in it. By the 1850s, he had some ownership in local limestone quarries, kilns, and schooners. He also had several real estate holdings and was the president and founder of Rockland Water Company.
William and his wife, Mary, had six children. Their second child, Lucy, outlived her parents and siblings. She had a generous inheritance, and upon passing in 1935, she left a bulk of the sizable estate to establish the William A. Farnsworth Library and Art Museum as a memorial to William, her father.
The Farnsworth Museum's Outstanding Collection of 15,000 Works
Across the Farnsworth Art Museum campus is more than 20,000 square feet of gallery space, which holds about 15,000 works. With an emphasis on Maine artists, the collection focuses on American art made from the 18th century to current day, so there's always something new on exhibition.
The Farnsworth Museum is home to one of the largest Louise Nevelson sculpture collections in the country. Additionally, the Wyeth family has a dedicated gallery of works by Andrew Wyeth, Jamie Wyeth, and N.C. (Newell Convers) Wyeth.
Side note: If you're looking for the "Andrew Wyeth Museum Maine", this is where you'll want to plan a visit!
Other important American artists featured in the museum include Charles Prendergast, Edward Hopper, Fitz Henry Lane, Philip Pearlstein, Robert Indiana, and many more.
Buildings on the Farnsworth Art Museum Campus
There are five places on the Farnsworth Museum campus that are worth visiting, or at least observing from a distance. Let's take a look at what you'll find!
The Farnsworth Homestead
The Farnsworth Homestead on Elm Street remained Lucy Farnsworth's home after her other family members passed away. The Greek Revival home and outbuildings are on the National Register of Historic Places and part of the main museum campus.
Inside, the home features high Victorian decor and has remained virtually unchanged. Only minimal electrical systems have been added. The original plumbing and heating systems are still in place.
Lucy Farnsworth recognized the potential educational value and historical importance of her family's homestead. So, she left instructions for it to be maintained with the original furnishings and open to the public after she passed.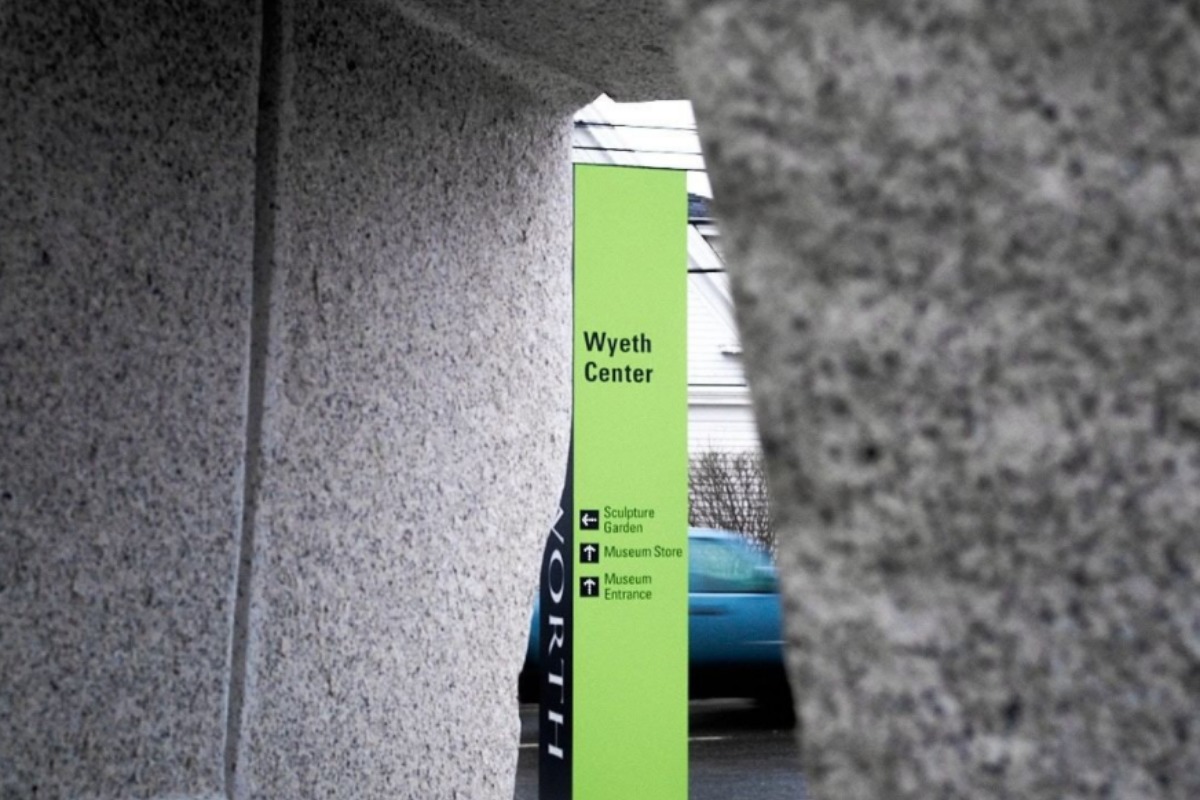 The Wyeth Center
Located in the former United Methodist Church (one of the most prominent 19th-century structures in Rockland), The Wyeth Center is open seasonally. It features exhibits that focus on works by N.C. and Jamie Wyeth. When there's a major exhibition, though, Andrew Wyeth is also presented.
You can see works by Jamie Wyeth in the upstairs Marylouise Tandy Cowan Gallery, while works by N.C. Wyeth are in the downstairs Linda Bean Folkers Gallery. In the large Victorian house across the street, you can get basic information and reference materials about all three Wyeth artists.
If you're looking for the Andrew Wyeth museum Maine boasts, you'll find it in a building that was added onto the original museum. The collection includes drawings, drybrush paintings, temperas, and watercolors by Andrew. Rotating exhibits in other museum galleries are drawn from here.
The Farnsworth Art Museum's Library
The non-circulating library at the Farnsworth Museum was created as part of Lucy's will. It's a collection of about 10,000 books that focus on American artists and works, some of which are on display in the museum. It's one of the most comprehensive art collections of its kind in the area.
A fantastic feature of the Farnsworth Library reading room is a marble mantel. It was one of a pair once placed in the Supreme Court's early robing room. At one point, it was also installed on the second floor of Justice Gray's home in Washington, D.C.
Gamble Education Center
On Grace Street behind the Wyeth Research Center is the Gamble Education Center. The building is named in honor of Edwin Gamble, an artist who served on the Farnsworth Board of Trustees.
The education center opened in 1999 and hosts children's camps, studio classes, and workshops. It's a place where you can get a new perspective on the Farnsworth's collections, library, and historic buildings.
Farnsworth Art Museum Store
Connected to the main William Farnsworth Memorial Building is the Farnsworth Art Museum Store. Here, you can purchase a wide range of items — art supplies, books, games, clothes, accessories, and souvenirs to commemorate your visit to the Farnsworth Museum.
You can even buy items specifically related to the Wyeth family, including special editions and prints of their artwork. Every purchase supports all of the museum's endeavors to celebrate the role of Maine in American art.
Lectures, Films, & Performances at Farnsworth
Throughout the year, the museum hosts lectures with artists, museum curators, and scholars. In addition, the museum shows animated shorts, documentaries, and dramatic fiction films related to cultural issues and art history.
The Farnsworth Museum even invites actors and musicians to perform in dramatic readings, live concerts, and theatrical productions. Many of these performances are collaborations with the Everyman Repertory Theatre and Bay Chamber Concerts.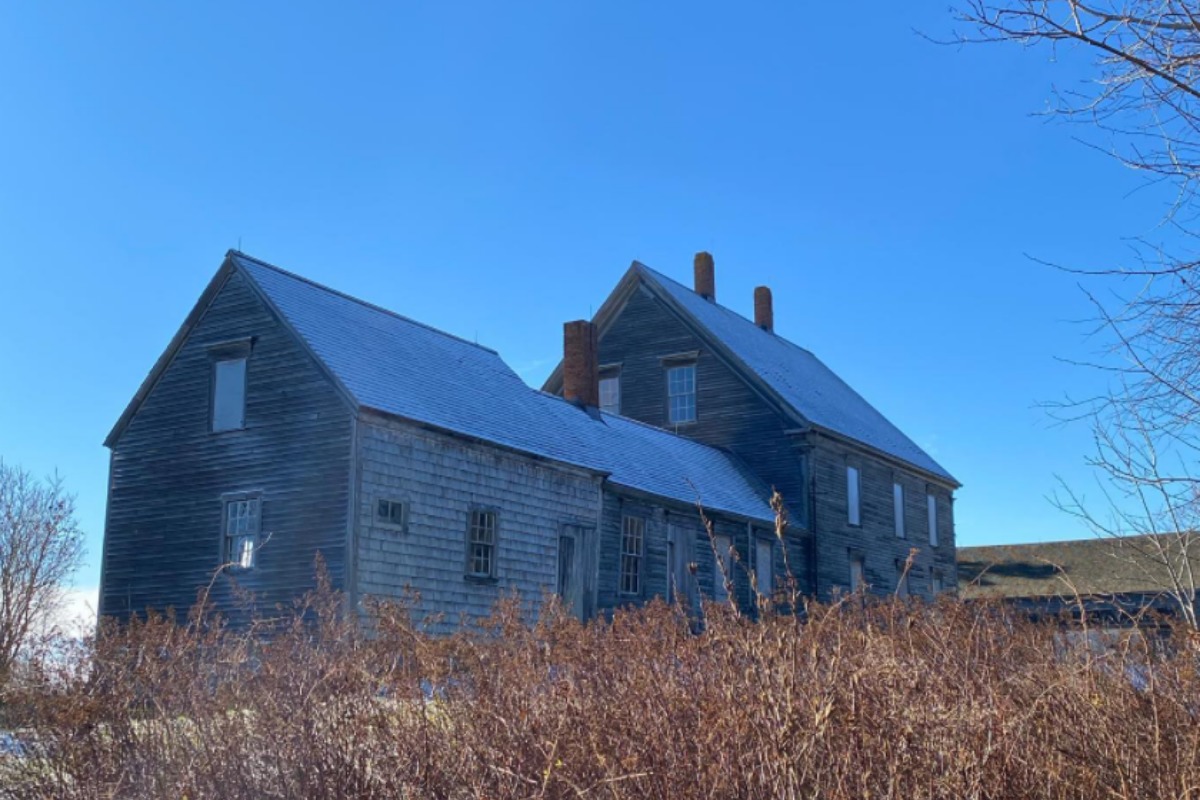 The Olson House | A Farnsworth Museum Property
Although not on the Rockland Maine campus of the Farnsworth Art Museum, The Olson House is home to many Andrew Wyeth works. This National Historic Landmark is managed by the museum and located in Cushing Maine, about a 25-minute drive southwest of Rockland.
The Olsons & Andrew
The Olson House was the home of Alvaro and Christina Olson, neighbors of Betsy James Wyeth before she wed Andrew Wyeth. Andrew became great friends with the Olsons and often wandered the estate and used one of the upstairs rooms for a studio.
Because of that, The Olson House became an integral part of Andrew's artwork. The home and Christina were symbols of Maine and New England in his eyes. In fact, she was the subject of his famous painting Christina's World.
From an early age, one of Andrew and Betsy Wyeth's sons, James Wyeth (aka Jamie), showed a talent for the arts. However, his time in New York set his works apart from his father's and grandfather's, N.C. Wyeth.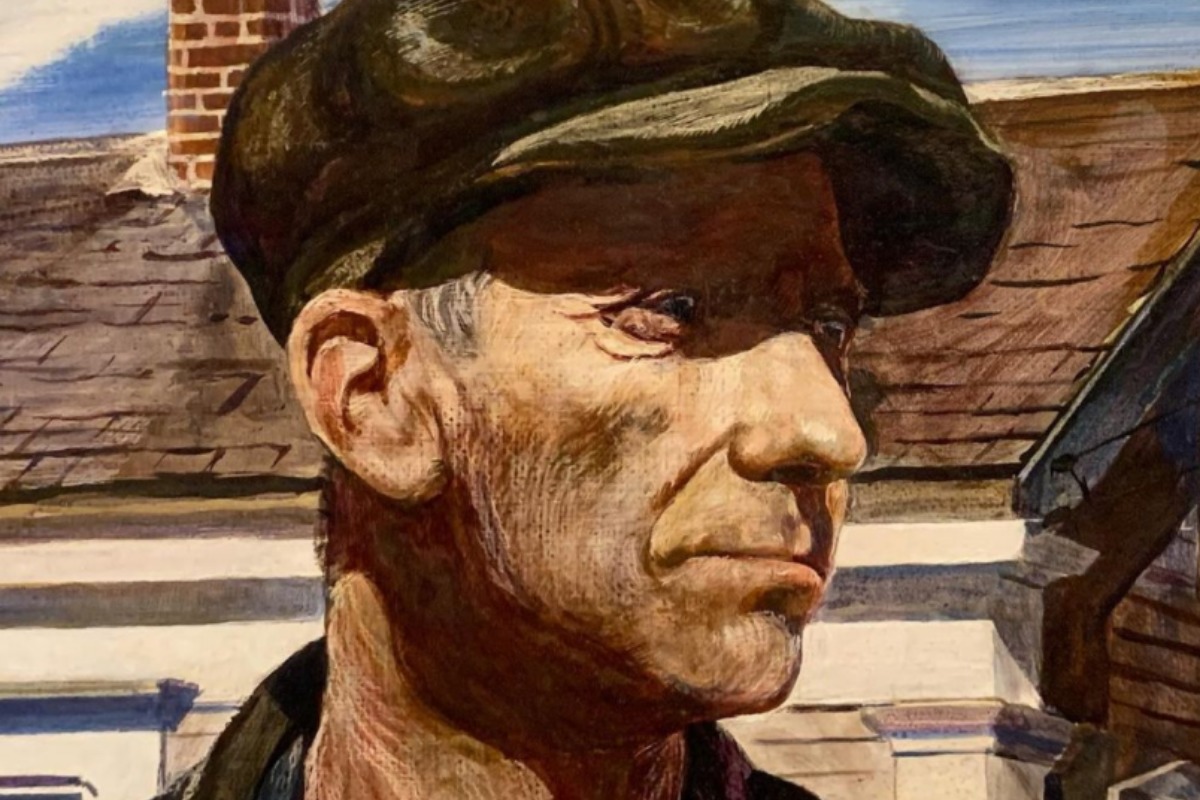 Museum Hours, Admission, Parking, & More
The Farnsworth Art Museum always has some buildings and galleries open to the public. Since hours change depending on the season, we recommend visiting the museum website to check the operating hours before planning your visit.
Parking
All museum guests can park at the museum for free. There are four parking lots on the campus, as well as two-hour parking along several streets surrounding the campus. On top of that, there are three municipal parking lots within walking distance.
Admission
Everyone who lives in Rockland Maine and children under age 17 get into the Farnsworth Art Museum for free. Students ages 17 and older pay $10, seniors ages 65 and older pay $13, and all other adults pay $15.
Lockers
If you're carrying a large bag, backpack, umbrella, or other cumbersome items, the museum asks that you store them in lockers during your visit. The lockers require a quarter to use, but the quarter is returned to you upon retrieving your belongings.
Accessibility Features
Guests who need a wheelchair while exploring the exhibits can ask the front deck or a guard for one. Also, certified service animals can accompany their owners in the museum.
Photography
The Farnsworth Museum welcomes photography, videotaping, and other recordings of the exhibits, unless designated otherwise. It encourages you to share on social media too!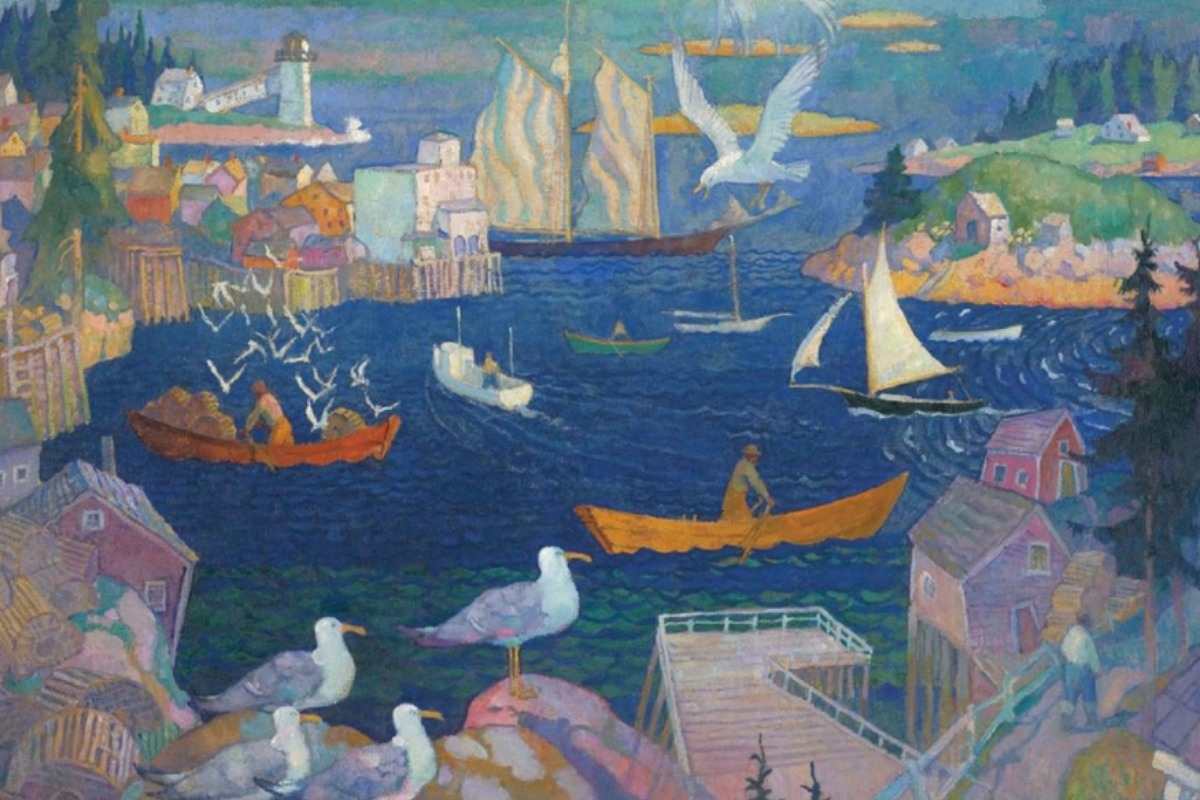 Additional Rockland Maine Things to Do
After you visit one of locals' and visitors' favorite museums in Mid-Coast Maine, you can explore the many other things to do in Rockland Maine. For instance, you could take a walk on the Rockland Harbor Trail or visit the Rockland Breakwater Lighthouse.
There are a lot of other cheap and free things to do too, such as visiting the Maine Lighthouse Museum, watching a show at the Strand Theatre, and exploring the Coastal Children's Museum.
You could venture to Owls Head as well, where Owls Head State Park, Owls Head Lighthouse, and Owls Head Transportation Museum are located in proximity to each other.
Great Restaurants Near the Farnsworth Art Museum
Aside from nature and the arts, Mid-Coast Maine is known for its lobster and delicious restaurants. Two of our top recommendations are Cafe Miranda and Primo Restaurant, both of which are located close to the Farnsworth Art Museum.
Rustica Cucina Italiana is another fantastic place to stop. But, there are a lot of restaurants in Rockland that serve delectable food.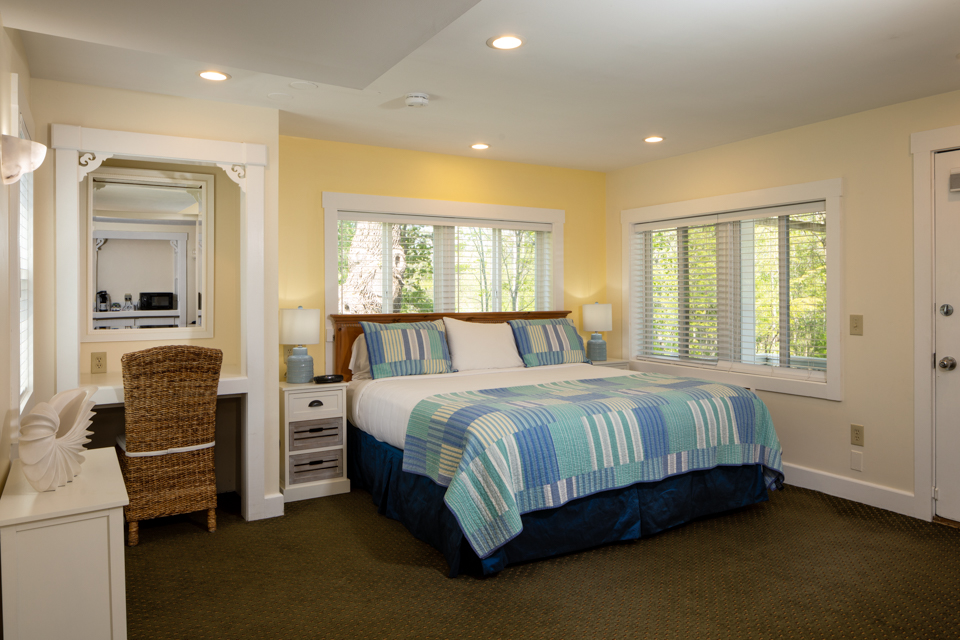 Best Place to Stay in Rockland Maine
Located in Knox County of Mid-Coast Maine, Glen Cove Inn & Suites is one of the best places to stay while you're in Rockland. We have comfortable accommodations, a heated outdoor pool, and a deluxe breakfast every morning. Best of all, we're only about 3 miles from the Farnsworth Museum.
If you plan to visit Mid-Coast Maine during winter, stay at our sister property — The Country Inn at Camden Rockport. Open all year, they boast a heated indoor pool, on-site spa services, and more.
When you're ready to book your room, check current availability at Glen Cove and Country Inn!