Thousands of people from around the country and world visit Maine throughout the year for premier festivals and events. In fact, the Maine Common Ground Fair gets about 60,000 visitors at its annual celebration of rural and agricultural traditions.
Bringing together people from all walks of life, the venue is one of the most popular fall destinations in the state.
About the Maine Organic Farmers and Gardeners Association
Established in 1971, the MOFGA is the largest and oldest state organic organization in the United States. The Common Ground Country Fair in Unity, Maine, is just one of its initiatives to advocate for and educate about organic agriculture.
The group highlights the interdependence of organic agriculture on thriving communities, a healthy environment, and local food production. As a matter of fact, it provides farming apprenticeships, training, scholarships, agricultural services, organic certifications and more.
Get our complete vacation guide to Mid-Coast Maine. Many of the best places throughout Camden, Rockland, and Rockport.
Request the Vacation Guide
Things to Know About the Maine Common Ground Fair
The purpose of the Maine Common Ground Country Fair is to celebrate the rural traditions of agriculture. It features education about and advocacy for organic farmers and gardeners throughout Maine.
The event is held at the same time every year, has several ticket-purchasing options, and features a full schedule of organic agricultural-related activities and shows.
View this post on Instagram

Here are eight things that you need to know to make the most of your visit to the Maine Common Ground Country Fair…
1. An Outdoor September Event in Unity, Maine
Every year, the Maine Common Ground Fair is held at the MOFGA grounds in Unity, Maine. It starts on the third Friday after Labor Day and ends on the following Sunday evening.
Maine has a mix of conditions during late September, so you'll want to be as comfortable and prepared as possible. Here are some suggestions for what to bring with you to be able to enjoy the Maine Common Ground Fair in any type of weather…
Rain Gear: The majority of the activities and shows on the schedule are held outdoors, but some of them are held under tents or in a barn. In any case, you should take a light raincoat, wind shell, or hat in case of unfavorable weather.
Footwear: It's also important to wear comfortable footwear. You'll be doing a lot of walking as you move from one activity or show to another. It makes all the difference to wear footwear that's suitable for walking, particularly sneakers.
Sunscreen: You'll also want to be sure to apply sunscreen as it can be difficult to find shade at the fairgrounds.
Water: On hotter days, taking water bottles is advised to stay hydrated. The grounds has special filling faucets for bottles and other stations with clean drinking water.
2. Numerous Ticket Options
The Common Ground Country Fair gets an estimated 60,000 visitors, and many of them buy their tickets at the gate upon arrival. Because of that, the ticket lines can get long.
If you plan to visit the fairgrounds, buying your tickets in advance will save you some time.
Advance-purchased tickets are also a few dollars cheaper. They're available online and at local businesses and organizations until a few days before the fair.
Note: The MOFGA also offers $2 off admission for those who ride their bikes to the event. Free admission is given to children aged 12 years and younger, persons with disabilities, volunteers, and MOFGA members.
3. The Farmers' Markets
You have the chance to see the bounty that Maine organic farmers and gardeners grow at the farmers' markets. In fact, the Maine Common Ground Fair has a market at both of its gates. They feature a range of dairy, flowers, fruits, herbs, vegetables and other farm produce. You can even buy rare seeds.
The markets showcase not only the bounty that farmers and gardeners provide but also the preservation of Maine farmland that protects the environment and future.
4. 5K Organic Footrace
Everyone who visits the Common Ground Country Fair is invited to participate in the 5K Organic Footrace. This early morning, 5,000-meter contest only requires a strong spirit and swift feet.
Note: You can register and pay the $20 fee (which includes admission to the fair) online or on the morning of the race.
5. Sheepdog Demos at the Maine Common Ground Fair
For these shows, livestock owners bring some of their animals and herding dogs to demonstrate how important the canines are to farming. They put the border collies to work and educate the audience about what they're thinking.
View this post on Instagram

The sheepdog demos make you appreciate the astounding ability of the dogs to anticipate what the farm animals will do. It's also funny to watch the livestock want to go anywhere except where the farmers point.
6. Manure Pitch Contests
During the Harry S. Truman games, you can watch participants compete in two manure pitch contests. One is a distance contest, and the other is an accuracy contest.
Each contest separates the participants into age classes: 12 years and younger, 13 to 17 years, and 18 years and older.
Be sure to arrive early and register to compete. Otherwise, you can join the audience to cheer on the contestants.
Get our complete vacation guide to Mid-Coast Maine. Many of the best places throughout Camden, Rockland, and Rockport.
Request the Vacation Guide
7. Draft Horse and Donkey and Mule Shows
You can see a draft horse show and a donkey and mule show during the Maine Common Ground Fair event. For the draft horse show, the animals put on a demonstration of intelligence, versatility, and beauty. They compete in bareback riding, cart classes, and obstacle courses.
During the donkey and mule show, you learn to appreciate the work that these animals do on farms. In fact, they want to haul logs, pull wagons and do other farm work. Their show also features an obstacle course and silly games.
8. Other Activities and Shows
In addition to the activities and shows mentioned above, the Common Ground Country Fair schedule features hundreds more demonstrations, activities, and shows.
Each day is filled to the brim. There are agricultural, basket-making, blacksmithing, country kitchen, herbalist and stone-working demos. You can also watch craft and fleece shows, the garden parade, and several educational talks.
The Children's Garden Parade is always a highlight!

The fair features a wide variety of live performances and music alongside delicious, organic foods and drinks.
Hotel and Lodging Near the Maine Common Ground Fair
You don't have to stay in Unity, Maine, to experience the Maine Common Ground Fair. Book a room near the coast, and turn your trip to the fair into a full Maine vacation!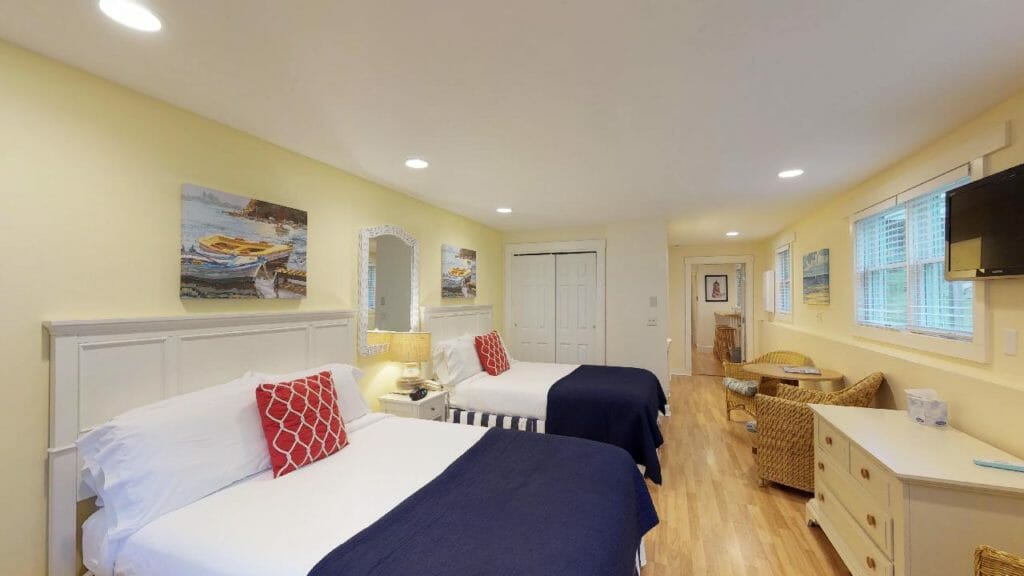 Experience firsthand the impact that organic agriculture has on the many restaurants in Rockland, Rockport, and Camden. And be sure to check out some of the other festivals and events that are held in this area of Maine in September.
Come stay with us when you visit the Maine Common Ground Country Fair! We're just about an hour's drive from the fairgrounds, and we have a range of amenities, including an outdoor heated pool and wonderful breakfast.
If we're booked up, be sure to make reservations at our sister hotel in Camden Maine, the Country Inn (located just a few minutes down Route 1 between Camden & Rockport).
Get our complete vacation guide to Mid-Coast Maine. Many of the best places throughout Camden, Rockland, and Rockport.
Request the Vacation Guide