Rockland, Maine, has a wealth of things to do and see. From historic landmarks to delicious food and drink, this beautiful coastal city has activities for couples, families, and kids. If you want to make your visit truly fun and unique, check out the tours Rockland Maine offers groups and individuals.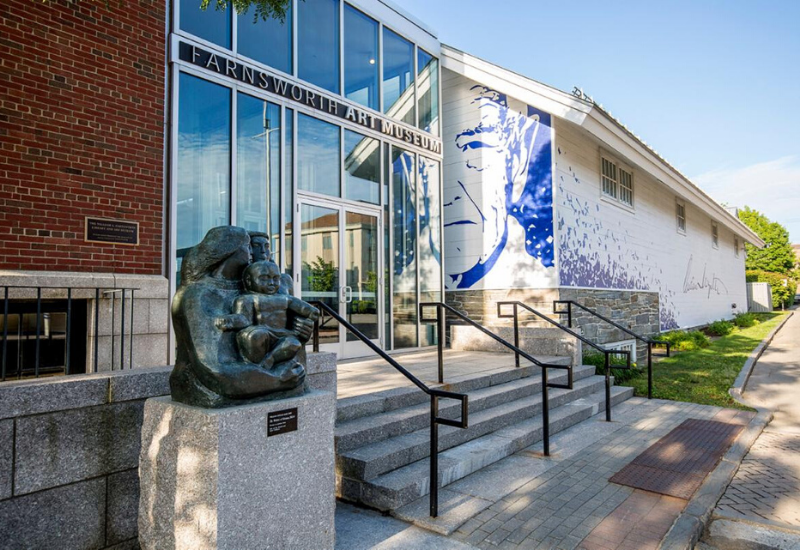 Get our complete vacation guide to Mid-Coast Maine. Many of the best places throughout Camden, Rockland, and Rockport.
Request the Vacation Guide
Best Seasonal Tours at Rockland Maine Museums
Farnsworth Art Museum
With more than 20,000 square feet of gallery space, Farnsworth Art Museum is home to Maine-inspired and American art. From July to September, you can join its 30-minute Highlight Tour for a conversational walk-through of the collection. You can go to the lobby for the tour without making a reservation.
The museum also offers tours outside of the main gallery. From Memorial Day weekend through Indigenous Peoples Day weekend, you can take the Homestead Tour, which showcases the home of the museum's founder, Lucy Farnsworth. The tour takes you back to Victorian life, providing information about the customs and lifestyles of merchant families from 150 years ago.
During the same season, you can join the Olson House Tour. The house was the subject of many works by artist Andrew Wyeth. The most iconic is "Christina's World," which features Christina Olson. The tour includes information about him and life on the saltwater farm during the early to mid-20th century.
From July to September, the museum offers Wyeth Experience Tours that immerse you in the artist's world. It gives you more insight into the attraction that Wyeth had toward the Olson House for more than three decades. The tour starts with looking at a few of his works. Then, a van ride takes you to the Olson House for an in-depth tour. It's $50 for nonmembers and $35 for members and includes entrance to the main gallery.
Maine Lighthouse Museum
At the Maine Lighthouse Museum, you learn about the progress, heroism, and traditions of the U.S. Coast Guard, U.S. Life-Saving Service, and U.S. Lighthouse Service. It houses the largest collection of artifacts and offers self-guided and guided tours.
The museum opens through the summer after Memorial Day until Indigenous Peoples Day. It also has limited hours in the spring and again in the fall until Christmas. Admission is free for children 12 and younger and $8 for adults.
Montpelier at the Knox Museum
The luxurious Montpelier estate at the Knox Museum is open for tours from Memorial Day until Labor Day. You don't need reservations for groups of less than 10 people to get an in-depth look at this historic house, which was owned by Henry Knox, a veteran who served in George Washington's cabinet.
Knox built the home for his wife and to fulfill a humble dream of his own. The almost one-hour tour also includes a walk through the grounds and gardens. Admission is free for children younger than 5, $4 for children ages 5 to 13, and $10 for adults. Don't forget to check out The Carriage Shop before you leave.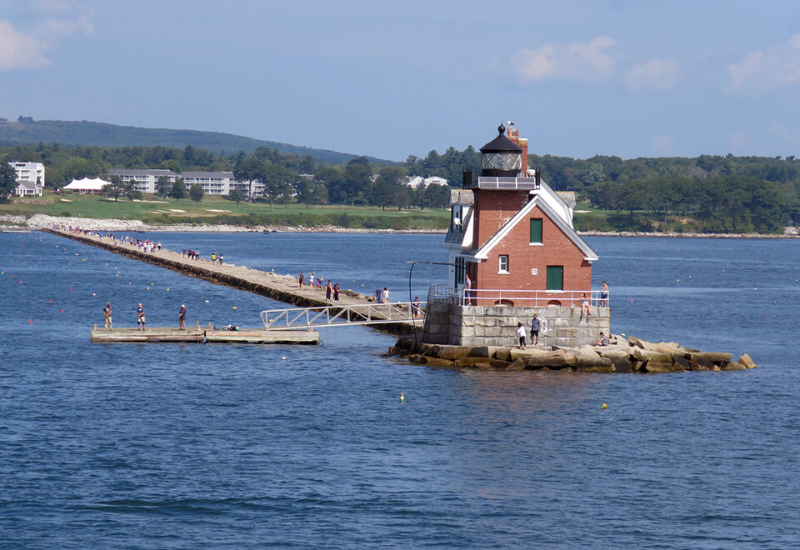 Seasonal Tours of Rockland Breakwater Lighthouse
One of the most popular things to do in Rockland is to tour the Rockland Breakwater Lighthouse, which was built in 1902. At the end of a nearly 1-mile breakwater, the tower stands 25 feet tall.
Tours are available from Memorial Day until Indigenous Peoples Day as long as volunteers are available and the weather is favorable. Although there's no admission fee, the American Lighthouse Foundation asks visitors to leave donations.
Rockland Maine Foodie Tours
If you love food, schedule a Rockland walking food tour with Maine Foodie Tours. From late May to mid-October, this company offers entertaining, three-hour tours of some of the best restaurants in Rockland. It starts at Ada's Kitchen on Main Street.
The tours cover the area's culinary history and favorite dishes, such as lobster rolls, locally sourced and diet-friendly soups, award-winning chocolates, and Maine craft beer. It's free for children 4 and younger and about $75 for ages 5 and older. A VIP package is available for adults 21 and older.
Northeast Charter & Tour Sightseeing
For unique sightseeing tours Rockland Maine offers, check out Northeast Charter & Tour. Aside from providing general transport, airport shuttles and event transport, the company offers sightseeing options for family and senior groups. It provides family history trips, kid outings, day trips, food and wine excursions, and customizable trips.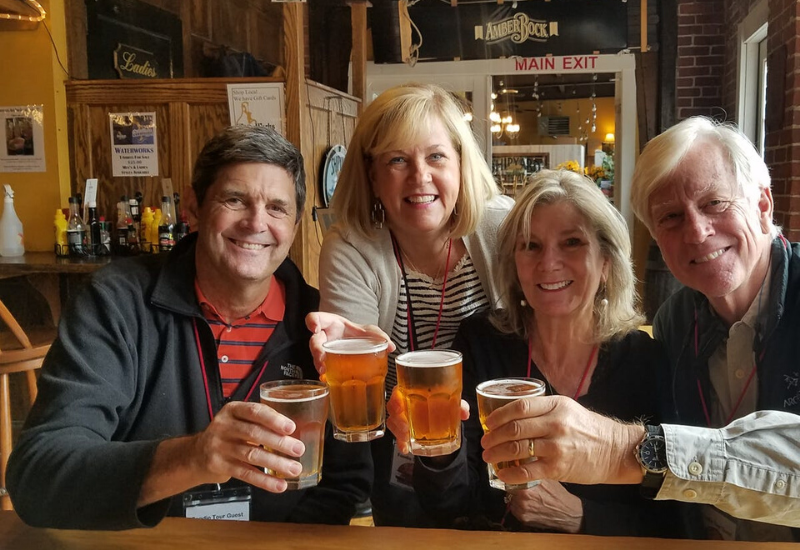 Get our complete vacation guide to Mid-Coast Maine. Many of the best places throughout Camden, Rockland, and Rockport.
Request the Vacation Guide
Bull on the Run Brewery & Wine Tours
Groups of adults and couples can enjoy touring breweries, wineries, and distilleries without worrying about driving. Bull on the Run hosts the guided tours while you sit back and relax. Wednesdays, Thursdays, and alternating Saturdays are brewery tours that usually include four breweries, such as:
Lake St. George Brewing Company.
Liberator Brewing Company.
Liberty Craft Brewing.
Odd Alewives Farm Brewery.
Rock Harbor Brewing Co.
The Pour Farm.
Threshers Brewing Co.
On the alternating Saturdays, the tours stop by the Blue Barren Distillery and Split Rock Distilling for spirits. The winery tours are on Fridays and Sundays, and they include stops at Cellardoor Winery and Savage Oakes Vineyard and Winery. All of the tours depart from Rock Harbor Brewing Co.
Best Boat Tours Rockland Maine Offers
For adventures on the harbor and Penobscot Bay, consider taking boat tours with A Morning in Maine or Bufflehead Sailing Charters. Both companies operate windjammer cruises and a premier boating experience.
A Morning in Maine features sailing by the Rockland Breakwater and Owls Head lighthouses, sunset cruises and fishing trips. Bufflehead Sailing Charters features one-hour to eight-hour tours of the bay, lighthouses, and islands.
In addition, you have the opportunity to experience boat rental tours with Breakwater Kayak Co. You can book a kayak tour to Rockland Breakwater Lighthouse, through Owls Head or to Camden Harbor. It offers natural history and eco-tours too.
If you want more options, take a look at these other boat tours and rentals in Rockland and Rockport.
Penobscot Island Air Sightseeing & Lighthouse Tours
For an aerial view of Rockland sights and Maine lighthouses, book "flightseeing" with Penobscot Island Air. Established in the late 1940s, it offers scenic views of Penobscot Bay that allow you to photograph the beautiful islands, windjammers on the water, and lighthouses.
You can choose from one of the preplanned trips or customize a tour. The flat rate is $380 per hour, which can be divided into 15-minute increments.
Best Place to Stay While Touring Rockland, Maine
When you plan to enjoy a few tours Rockland Maine offers, you want a central location to make getting around easy. Glen Cove Inn & Suites is in a great spot that gives you quick access to many shopping spots, restaurants, and more.
If you need kid-friendly things to do in Rockland, a lot of those are nearby as well. On top of that, we offer specials and packages so that you can get the most out of your MidCoast Maine vacation.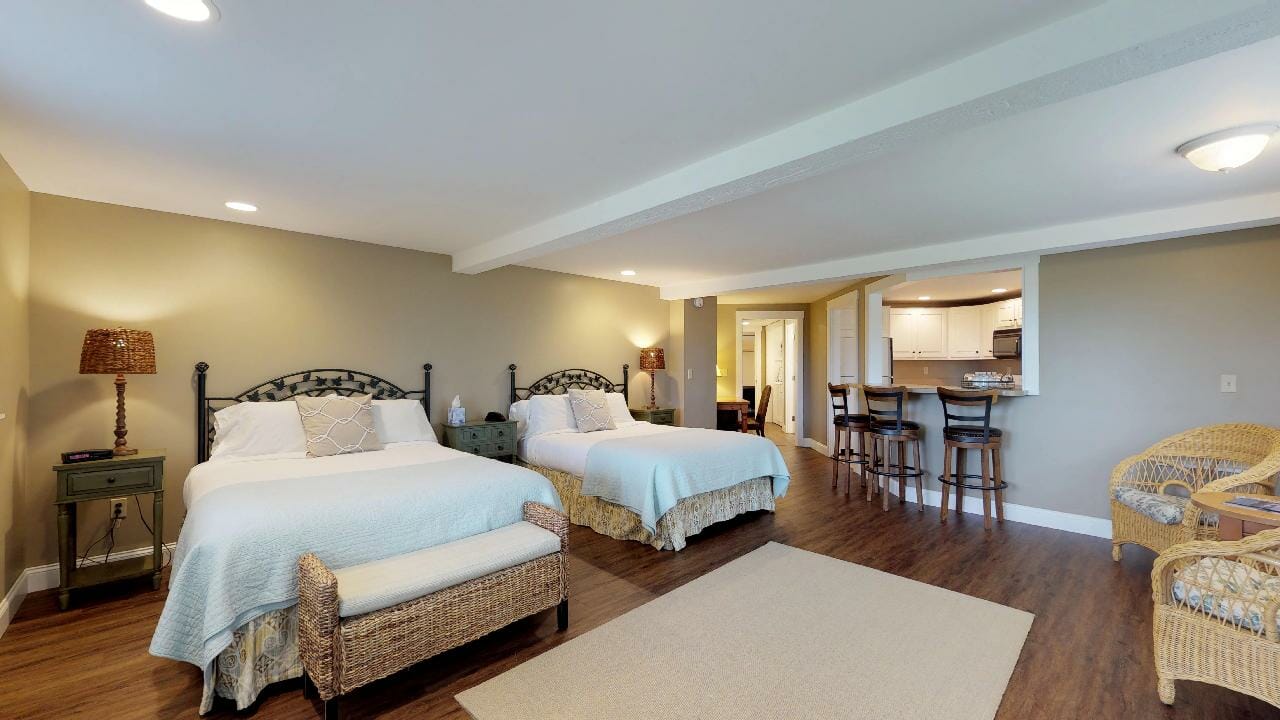 Get our complete vacation guide to Mid-Coast Maine. Many of the best places throughout Camden, Rockland, and Rockport.
Request the Vacation Guide